Studies have shown that, when used properly, laptops are excellent learning tools for kids, improving both focus and comprehension. Many schools across the nation have formally adopted the use of laptops in the classroom. Numerous other students utilize their laptops every day to carry out their academic obligations. Regardless of whether educators utilize these tools to teach reading to young children or to aid high school students in getting ready for college, there is little doubt that these valuable resources require ongoing protection from harm.
Today life is full of hassles and we face issues by neglecting pricey devices or we don't better take care of them. It's not always about the money we invested in these items but the precious data they include. There are many accessories are available online to protect your laptop from damage by falling.
You can use cushioned laptop sleeves, and waterproof or resistant bags to prevent any mishaps or damages.
We have heard different stories of laptop damage like climbing aboard a bus and dropping the laptop; during a turbulent flight spilling coke on the notebook, these are quite painful.
How to protect your laptop from falling and damage?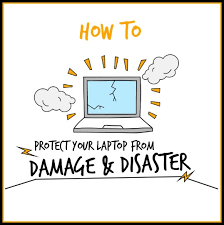 We are emotionally attached to our devices as they grabbed our attention and contain our important data in them as well as cost us financially. To prevent your laptop from falling and damages you may have considered these productive items before traveling:
Pick a hard shell laptop case
Different companies are producing extreme laptop cases to avoid damage from falling. You can choose according to your laptop size and select the best design for you.
These are two halves attached to your laptop all the time and rugged cases are also available online. They usually cost you $15-$45, whereas the hard cases are a bit expensive.
When you need to cushion a laptop from falls
Some of the companies which make kneepads and skateboards are also offering extreme shield cases for laptops. It is manufactured from a flexible material that can absorb severe shocks.
Someone from the Boston Herald claimed that he stuffed the laptop in this case and throws it several times from the height of his waist but the laptop survived.
Choose a laptop sleeve of a durable material
Choose the best sleeve for a laptop which is soft padding inside and thick protective material from the outside. Sleeves make your laptop perfectly fit in a large bag so select a leather sleeve that is a durable material.
The thick sleeve laptop bag may vary the size of your laptop. Always buy a proper size laptop sleeve that can easily fit. These sleeves usually cost you $20-$50. You must go online and research to select the best product for your laptop.
Make your protection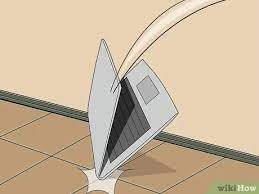 You can protect your laptop from falling by making your protection.
Foam core boards
First, take measurements of the top and bottom of your laptop along with a hinge with measuring tape. Then mark the foam board with these measurements and cut them into 3 rectangular pieces from which 2 are of the same size and the one should be wider. You can buy foam core boards from Amazon.
Make holes for ventilation
Check out the openings and vents of laptops and mark their location on boards. By using a knife cut out the exposures for a fan. It will make airflow easy and prevent your laptop from overheating.
Tape the boards to the outside of the laptop to make an exoskeleton
You can use duct tape which is used to wrap AC ducts. Tape the foam boards together on the top and bottom of the laptop. Now take a small rectangular piece and tape it with a hinge where it bends to close.
Foam weather stripping
Now you should measure the edges of your laptop and cut six pieces of weather stripping by using a utility knife. You can get this weatherstrip from Amazon or any hardware store or
Cut out holes to expose the ports
Now you must cut the holes in weather stripping for the ports and other holes to let them exposed by using a knife.
Tape the weather stripping to the outer edges of the laptop
Foam weatherstripping comes with one side of the foam and the other side is sticky tape. Remove the paper from the tape side and cut it into half cubes and stick them on the edges of the laptop. Make sure they stick firmly.
Make slices in four tennis balls for the corners
Be careful while cutting the balls. If you cannot cut them properly, then order online for half-balls on Amazon. Put half a piece of ball in each corner of the laptop.
Cover the laptop in duct tape
Now use duct tape to cover the whole laptop with tennis balls by rolling the tape from top to bottom as well. An unprotected laptop, even in a backpack, can sustain severe damage when bumped, shaken, or dropped.
The laptop protection case from fallen damage is secured. Now you don't need to worry to protect your laptop from falling and physical damage.
Purchase warranties and insurance:
You should get your equipment covered to protect laptops by insurance and warranties before you crack open the package. On various items, several manufacturers provide immediate, limited warranties. The retailer where you bought your laptop also offers insurance policies and extended warranties. These insurance policies can shield your investment against unintentional damage, mechanical failures, software errors, and other issues over which you may have only a limited amount of control. Some credit cards also feature coverage from theft and loss in addition to automatically extending the manufacturer's warranty. If using Higher Ground situations, several insurance companies offer discounts.
Safety precautions to protect the laptop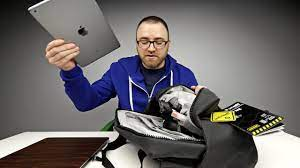 Handle with care
Laptops are expensive items so you must be careful while using them. Don't leave it alone on the floor or throw it use laptop bags instead to keep them safe.
here are different companies that are producing extreme laptop cases to avoid damage from falling. You can choose according to your laptop size and select the best design for you.
Open with caution
Each generation of laptops features a slimmer design. Some even have screens that can fold. Although the screen is more flexible and thinner, it is also less rigid, which makes it more prone to damage. If you open the laptop from just one side, the screen may flex, especially on more affordable laptops.
However, many of us open the lid of a laptop while holding it in one hand. The screen can twist as a result of this. To open the laptop, use both hands. Alternately, make it a practice to always open your laptop from the middle to prevent flex.
Avoid moving around when your laptop is running
If you are working on your laptop then be careful to move it around; better to avoid moving it when your laptop is running. Unluckily, if you drop it accidentally then it will affect the hard drive and circuitry. Even a sleep mode won't protect your laptop from damage.
Turn your laptop off as soon as you're finished working
Always shut down your laptop after work is finished. It will protect your data in case of dropping or other accidents.
Keep at least two backups of your data
You should have an external hard drive to back up your data in a digital cloud and keep your files safe and updated. While online drives like Dropbox and google drive can save your data but with limited storage.
Replace a cracked screen at a repair shop
In most cases, a common result of the drop is a cracked or broken screen. You might think sometimes you can work with it but the crack gets worse with time. So you must take it to the repair shop to fix your laptop screen.
Backup your data after dropping
Immediately back up your data if your laptop is turning on after falling. Save all the important files to the cloud.
Listen for clicks or spinning when your laptop power on
When your laptop is fallen down and still working then closely checks all the startup or other sounds. If you hear an unusual sound like beeps then it means your laptop's hard drive is damaged.
Develop safe habits:
Even when you aren't using your laptop, you should maintain safe behaviors to protect it. Never pick up a laptop by the screen or place anything in close proximity to the keyboard and screen. When working, keep liquids away from your computer. Always travel it in a high-quality case, and store it someplace protected from environmental and unintentional harm.
Limit usage:
You might use the computer responsibly, but others might not. Make distinct profiles for each user who will be using the computer, and only grant them access to the resources and apps they require. Stop allowing other users to access administrator files or features
Disconnect carefully
A reliable power source is required for your laptop. You're out if you tamper with the power cord connection. Therefore, be sure to pull the power cord straight out. The port can be harmed if you pull it out sideways.
Make sure your hard drive has stopped spinning by turning off your computer completely or putting it in sleep mode
Also, pay attention to the location of the wall outlet where your power cord is attached. Someone might trip over the cord if it is left dangling on the floor, or it might become entangled in a moving chair. This might even cause the laptop to tip over and harm the charging port.
FAQS

how to protect your laptop from falling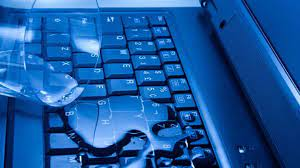 What are the ideal locations to store my laptop when not in use?
The most crucial thing is to store your laptop in a safe place that is accessible if you need to use it. If your laptop isn't in use, you might want to store it in a bag or backpack because that is the safest place to keep it. Another choice is to keep your laptop on a desk or table in an empty space in your home.
What safeguards should I put in place to keep my laptop safe?
Would a hard case be able to hold it? There are cases specifically designed for just about any circumstance you might run against such as a stolen laptop. To shield your computer's keyboard, mouse, or even laptop screen, there are skins and sleeves.
Do I need to purchase a laptop case?
If you use your laptop for daily travel, a case is not necessary. A case that weighs less might be preferable if you don't travel regularly. Many folks utilize a case, laptop bag, or sleeve as a stopgap measure.
How often should I clean the screen of my laptop?
It would be beneficial if you used an anti-static cloth to clean your laptop safely at least twice every week. Make sure to use the right cleaning because some may leave streaks on the screen.
How can I protect my laptop from scuffs?
With a brand-new laptop, you will certainly want extra protection for your precious device. Cleaning and wiping your computer with a cloth or towel while it's damp is the easiest approach to prevent scratches.
Conclusion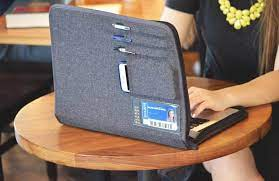 Every drop or fall decreases the average life of a laptop like slow poison. Normally we think that everything is perfect but there may be internal issues. Take it to the shop for a diagnostic test to look for any internal damage.
I can assure you this article will be helpful for you; leave your feedback below in the comment box.
Thanks for visiting LaptopsChamp