This article may include references and links to products and services from one or more of our advertisers. We may be paid compensation when you click on links to those products and/or services. As Amazon Associates, we earn from qualifying purchases.
What Size Laptop Sleeve Do I Need?
The first thing that comes to mind when you have to get a new fabric or leather sleeve bag for your laptop is what size you should be purchasing. To be more specific, you want to know my laptop's size. Knowing it in advance helps you avoid disappointments when the bag eventually comes. You'll only end up yanking your hair out trying to get your laptop to fit in. Nothing is more annoying than waiting and having to pay for something you didn't want to get to begin with. Your main desire would be to learn how to measure a laptop's size for the skin.
There are enormous choices for sleeves at a price range of $10-$100. All you need to know is what size laptop sleeve do I need for my laptop. Laptops are expensive gadgets and need to be tended to with care. So it's better to use laptop sleeves to protect it from dropping off, scratches, and other physical damage.
Best laptop sleeves available – Reviews
Nowadays there are different trendy laptop sleeves are available online which have cushions inside to protect your delicate machines with a touch screen. You just need to slide your laptop into the sleeve while traveling for protection.
How to measure what size laptop sleeve do I need?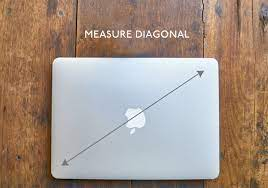 Most of the laptops are expensive and pricey with all the requirements you needed. Whether it is an ordinary or gaming laptop you must keep it in the sleeve to protect your laptop from humidity, direct sun, dropping, scratches, and other damages.
To get the best sleeve for your laptop you need a perfect size by measuring the laptop compartment. Let me know how to check and measure the size of your laptop. Let's see:
Put your device on the table and start taking measurements. First go with the width, height, screen size, laptop size and thickness of your laptop by measuring tape. Extend your tape measure to the opposite corner. Remember that you are measuring just the visible portion of the screen, not any of the enclosures,. Screens were originally measured diagonally to make the size sound more impressive.
For example, it is "39 x 31 x 3.4 cm" now you must add the thickness of your laptop bags once to the width and height of the laptop. It would be 42.4cm x 34.4cm, this is the actual size and you need a sleeve according to this measurement.
As mentioned earlier, get a sleeve that is shock absorbent as you would not want to keep worrying about your laptop the whole time. You have to measure the height, width, and diagonal length of the laptop first. Then, tally these measurements with the sleeve or bag sizes to find the best bag for your laptop
So far for this measurement, you may need a 17-inch sleeve for your laptop screen size. You may find one by acquiring the measurement of your laptop.
Best Laptop Sleeves
I have compiled a list of the best laptop sleeves for your convenience; I mentioned here all the benefits and used to measure your laptop:
1. Tomtoc 360° Protective Laptop Sleeve Case
Tomtoc is the best company that manufactures 360-degree protective laptop sleeve cases. If you have a Surface Pro 4 laptop then it is best for you with its 3 layers protection. The exterior surface of the sleeve is made from waterproof spill-resistant polyester material. The soft interior of the shockproof sponge and foam cushioning keeps your laptop safe while bumps, knocks, and scrapes. This cushioning system provides all-around protection to your closed laptop screen with extra-large pockets to keep your laptop accessories like chargers, tablets, phones, or other items.
Tomtoc 360 sleeve comes in different sizes and colors like blue, grey, pink, and black the most wanted.
2. Snugg Leather Sleeve for Microsoft laptop
Snugg designed this leather sleeve case of a laptop specifically for Microsoft products. The overall exterior of this sleeve is made of pure high-quality PU leather with splash-proof.
What Size Laptop Sleeve Do I Need
The internal part soft nubuck fiber of the sleeve is specially designed to prevent your laptop from scratches and damage.
Moreover, this sleeve is designed with two pockets; the main one for keeping a laptop and the rear one for documents includes the flap. You can store business cards in the built-in cardholder. Whereas a rear pocket is for keeping important documents and this sleeve is available in different sizes and beautiful colors.
It comes with a lifetime guarantee but inauspiciously the back pocket is not enough to keep the charger of the laptop.
3. ProCase Microsoft Wallet Sleeve Case
The ProCase wallet sleeve is a perfect combination of the leather exterior. It looks stylish and has a soft microfiber interior of premium quality to protect your laptop from any scratches.
This sleeve case has cuts to let you charge your laptop within in sleeve and a large pocket to keep documents, small devices, and smartphones. It is secured with the closure of strong magnets that fit tight with or without the keyboard attached to it with a built-in pen holder as well. This wallet sleeve case comes in brown, red, and black colors.
4. Inateck Surface Pro 4 Sleeve with Accessory Pouch
Inatech Surface Sleeve with accessory pouch is the perfect size laptop sleeve that you need, as it is specially designed for MacBook. This sleeve is a perfect match for:
MacBook-Pro 13" with Touch Bar A1706
MacBook 13″ without Touch Bar A1708
Microsoft Surface Pro 2017
MacBook Pro 13" with Retina Display A1425/A1502
iPad Pro 12.9"
Dell XPS 13
Surface Pro 3 & 4
This sleeve case is built with high-quality material with non-visible easy-to-open and close magnet closure and is dependable and secure. There are two internal zip pockets that provide additional protection with more space to organize laptops diagonally and devices easily.
Inateck Surface Pro 4 Sleeve with Accessory Pouch
Specifications:
MacBook-Pro 13" with Touch Bar A1706
MacBook 13″ without Touch Bar A1708
Microsoft Surface Pro 2017
iPad Pro 12.9"
What Size Laptop Sleeve Do I Need
These pockets of the laptop bag can keep saving your laptop and the documents, magazines, other peripherals, etc.
This sleeve case is the most demanding of various sizes, its external size is 34x23cm with a tape measure and the internal size is 33 x 22.5 cm. It integrates tested waterproof polyester fabric which protects your laptop in sudden weather changes like raining or spilling coffee etc.
There are various sleeves available with numerous facilities and some are limited to laptops only. You cannot put your charger or the other laptop accessories along. Every best laptop sleeve must have two compartments of pockets which can be zippers and magnet secured as well.
These spacious laptop sleeves help you to organize the other things with the laptop or tablets. Like a notebook, electronic peripherals, mouse, portable chargers, USB, and Pen built-ins and designed for keeping other external accessories along.
The main objective of laptop sleeves is to protect your machine from dust, water, drops, accidents, scratches, knocks, dings, and spillage. They come in beautiful looks like professional, subtle, and fashionable with the latest trends and colors an aesthetically pleasing.
Conclusion
Make sure your laptop is protected within a laptop sleeve that features shock absorption when you purchase one. Some sleeves also include a waterproof inside to keep the laptop secure.
In my opinion, you also need a new laptop sleeve bag when you replace or purchase a laptop. It's a crucial addition that will eventually safeguard your smartphone during situations like travel. Get a shock-absorbing sleeve, as previously suggested, as you wouldn't want to worry about your laptop the entire time.3
The above-mentioned sleeves are the top ones and best suited for you to protect your laptop. If you are exploring "what size laptop sleeve do I need" for my laptop, then this article is truly helpful for you. For all-around protection with a handle strap, you can choose any of the sleeves well explained in this article.
I can assure you, that you can choose the best laptop sleeve from the above-mentioned products according to your needs and budget. I wish you a happy deal.
Good Luck
Team – LaptopsChamp