We cannot deny the fact that technology has brought many changes in our lives and helped us by all means. No doubt it is greatly helpful and solvent for several of our problems but like humanity, it also has some problems.
There are different types of technologies emerged, and in today's world laptop is the most advanced one. We are doing everything on computers or laptops but sometimes we face difficulty in usage like your laptop dying while updating or shutdowns.
We will discuss in this article what happens if your laptop died while updating and the causes of laptop failure. Here you can also learn how to fix these issues.
What happens if your laptop died while updating?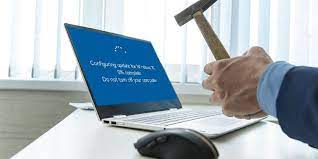 When you are updating your device and it shut off during the update then you may have to face some technical problem with your system. To solve this issue power on and off three times, let me tell you how?
First power on your laptop, when you see the windows logo then power off. Again power on and power off. Now power on will boot into the advanced recovery environment.
Then your system might ask you to sign in with a Microsoft account or password. You must click advanced options:
Troubleshoot > Advanced Options > System Restore
Try to go back to the previous time, if you cannot then boot into the recovery environment again and perform a startup repair of windows. If this won't work boot again into environment recovery "Go back to the previous version of windows".
Again use the trick if it doesn't work and power it on and off three times to get into the recovery mode.
Enter Advanced Options > Troubleshoot > Reset this PC > Keep my files > Choose your account > Enter your password > Continue >Reset
If this procedure won't be helpful for windows recovery then you need to install new windows, just your files.
Windows update is required for updating software and the other Microsoft programs which include security updates as well that are pushed out on the patch.
But sometimes these patches will cause a problem like the serious ones that can hold your update process and freeze your system. As a minor problem, you may face issues like audio or videos.
Since you are sure that the windows update restore point causes problems to your laptop whether it's a manual or automatic update on a patch. Then you should look for the error-fixing procedure.
What to do when a windows update gets stuck or is frozen?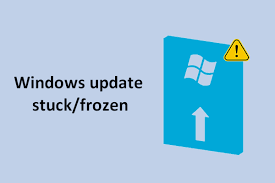 Windows 10 is designed to check important updates and configurations to update the system automatically from time to time. We do not even notice it rather while the installation of updates like Windows 7 or 8 usually applies all the fixes the night of Patch Tuesday.
Sometimes, these patches from the service pack cause the problem to update or shut down the system, the installation gets stuck, hangs, lockups stop, or freezes. It happens if your laptop died while updating.
It may display the following messages that persist for a long time when your laptop freezes:
Configuring Windows updates / –% complete / Do not turn off your computer
It could be a message appearing on the screen like "Getting Windows ready / Don't turn off your computer"
Cause of Frozen or Stuck Windows Update
Let's get to know, why the windows updates are stuck or laptops died while updating. When it is about to install all your updates and finalize them windows updates hang due to the software conflict or preexisting issue that wasn't resolved earlier until windows started installing updates.
You can rather say that this sort of issue comes from the Microsoft part regarding the update itself. So, Microsoft's operating system could hang while updating windows almost in all versions.
How to fix your laptop if died while updating?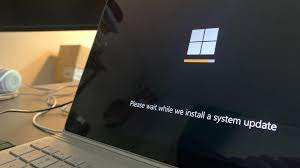 Pressing "Ctrl+Alt+Del" can let you out of all the hung installation processes and may appear on your login screen. Now log on to your account and let it work automatically, which means continue to install updates successfully on your laptop.
When it finishes computer science then restart your laptop or either power off the reset button and then turn it on. It will start normally and finish the installation of the updates hopefully.
Well, it often says no to doing this option but if the windows update installation is stuck or your laptop died while updating. You need to reboot the system forcefully as you got no other option.
Start Windows in Safe Mode
It means Windows only loads the minimum services it needs. If another program or service is conflicting with the windows update, so the installation might finish up simply.
When the windows updates do their installation successfully then you can restart your system to enter windows' normal mode.
Click on the System Restore startup settings so that the incomplete installations of the windows updates can undo the changes that were made. Now, this system restores the earlier version of windows from where it started to update.
You must change your update settings to avoid problem occurrences in the future. From the system recovery options, you can get access if you failed to restore in safe mode.
Repairing process
You may require an automatic repair process while System Restore can help you out with the problem of a frozen laptop. But sometimes it needs a comprehensive repair process. In the end, if it doesn't repair the broken files while updating windows 10 then try resetting this PC.
Test your computer's memory
You can check your RAM which could be possibly a great cause of freezing or a dead laptop. It is recommended to clean your RAM by using a proper laptop cleaning kit. If it doesn't work even after cleaning then you need to replace your RAM.
Clean Windows install
If you still have problems and all the above didn't work out for you then you should have installed new windows and upgraded them.
FAQS

what happens if your laptop died while updating

What happens if your laptop dies in the middle of an update?
How do you go about that? Your Microsoft Account or Local Account password may be required to sign in. Check to see if you can go back in time by clicking System Restore. If not, try performing a startup repair after entering the recovery environment once more.
What happens if my laptop's battery dies while updating?
After unplugging it, wait 20 to 60 minutes. If it is possible, remove the battery from your laptop if you are using one. Turn off Wi-Fi or unplug the Ethernet to disconnect it from the internet. Reconnect the plug, make sure it's not connected to the Internet, and then turn on the computer.
What takes place if your battery dies during an update?
You might observe that the phone reboots numerous times while receiving an update. Usually, a mechanism will verify whether an update has been initiated but not finished at boot. The update will continue if this is the case. This includes setting flags so that the code can proceed properly after a boot.
Is it necessary to plug in the laptop while updating?
When it updates, you should keep your laptop charged. I believe it's necessary, and it won't update if it's not connected. It instructs you to restart your laptop and plug it in whenever you need to restart it to update. So sure, you should continue to charge it because it won't.
Can I leave my laptop updated overnight without risk?
Sleep – Usually won't be an issue, but will pause the updating process. Most of the time, hibernation won't be an issue, but it will pause the updating process. Shut down – This will stop the update process, so avoid closing the lid.
Can I update while using my laptop?
With the proviso that if a file needs to be updated, it must not be open for read/writes at that time, Windows updates are generally safe to run simultaneously with other processes. File replacements are safer today since Windows is good about replacing files on shutdown and restart.
Conclusion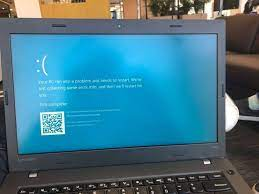 In this article, we have discussed in detail how to fix if your laptop died while updating and how you can solve this problem. I can assure you, by the following instructions now you can fix your laptop's blue screen issue.
Keep visiting LaptopsChamp to learn useful tips and tricks about laptops and other tech gadgets.