9 of the Best Laptop Computers for College Students
Just about every undergrad student owns either a laptop or a smartphone. And if you're getting ready to head to college, you should be prioritizing a quality laptop to use for school.
But it can be tough when it comes to looking at computers for college. There are tons of different choices that match different personalities, wants, and needs.
But worry not, because now you've got the ultimate list of the best laptops for college students to choose from. Read more to find out!
| Image | Product | Buy |
| --- | --- | --- |
| Top | 2020 NewestDell Inspiron 14 inch Laptop, | Buy on Amazon |
| Top | Dell XPS7390 13" InfinityEdge Touchscreen Laptop, | Buy on Amazon |
| Top | Apple MacBook Air (13-inch, 8GB RAM, 256GB SSD Storage) | Buy on Amazon |
| | HP Envy 15T x360 2021 i7-1165G7 11th Gen Quad,16 GB RAM,1 TB NVME SSD,15.6" FHD Touch,HP Tilt Pen,B&O Speakers,Win 10 Pro,1 Year MS Office 365 Personal Included,WifiAC,64 GB Tech Warehouse Flash Drive | Buy on Amazon |
| | Acer Chromebook 15, Intel Atom X5-E8000 Quad-Core Processor, 15.6" HD, 4GB LPDDR3, 16GB eMMC, CB3-532-108H | Buy on Amazon |
| Top | HP Spectre x360-13.3" FHD Touch | Buy on Amazon |
| Top | ASUS VivoBook S15 S533 Thin and Light Laptop, | Buy on Amazon |
| | Microsoft Surface Go (Intel Pentium Gold, 8GB RAM, 128GB) (MCZ-00001) | Buy on Amazon |
| Top | Lenovo Legion Y7000 Gaming Laptop | Buy on Amazon |
What to look for in College Student's Laptop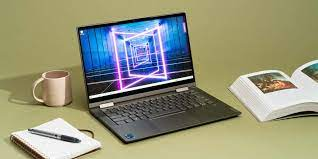 Your laptop's internal hardware, often known as the "specs," will define how effectively it functions on a daily basis and how long it should survive before it needs to be replaced. The processing power, storage, memory, and battery life of any laptop in our guide should be sufficient to last for at least a full four-year academic period.
Naturally, the more powerful laptops will operate faster and possibly survive longer, but they cost more. We're suggesting laptops that are suitable for the majority of college students, but you'll need to shop within your means.
We're here to explain all the essential components of a laptop and how they relate to your ability to use it for education.
Each of the laptops in our guide runs one of the three major operating systems (OS): Windows, MacOS, and ChromeOS. Each OS has its own set of pros and cons. 
Windows 11: Windows is the most popular computing operating system, and you'll have no problem finding the right software to help get your work done. It's also the best OS for games if that's how you plan on spending your free time. Windows 11 is the latest version of the Windows operating system, and you may want to learn more about Windows 11 before buying a new laptop.

Windows 10: This older version of Windows is still found on some new Windows laptops. However, most offer a free Windows 11 upgrade. Check the manufacturer's website to confirm this.

MacOS: Like Windows, MacOS is a fully fledged OS with a robust library of apps. If you need a popular app to get your work done, it's almost definitely available for the Mac. The downside is that MacOS only runs on Apple hardware. The upsides are that MacOS has far fewer viruses than Windows, and it shares many of the same apps as the iPhone.

ChromeOS: ChromeOS is different from MacOS and Windows because it's based on Google's Chrome browser, and it requires online connectivity for much of its functionality. You won't have access to the same types of software as you would on a Mac or PC, but you can still use Google's G suite to write papers, prepare presentations, create and edit spreadsheets, and more.

Displays
There are three important considerations for a laptop display for school. The first is resolution, which effectively lets you know how clear the picture will be. The short version is that the higher the number, the better the clarity. 
You'll often see labels such as 720p ("HD"), 1080p ("Full HD"), 4K ("UHD", "Ultra HD", or 2160p). Though more is better, the smaller displays of laptops tend to look perfectly sharp at 1080p, and the upgrade to 4K often comes with major sacrifices to battery life. 
Size is the next consideration. Smaller 11 and 12-inch displays are better when you only need one window open at a time. Medium-sized 13 and 14-inch models are good for light multitasking but can be difficult if you're not comfortable with small text. Larger 15.6- and 17-inch displays offer more workspace but will often mean bigger, heavier devices. 
Then there's brightness, which is often measured in nits. A display that's rated at 300 nits or below will be hard to use outdoors in bright conditions. Higher-brightness displays may work better outdoors, as can displays that offer a matte or anti-glare finish.
Your processor is going to play heavily into how speedy your computer feels. Luckily, outside of gaming, engineering, or digital art, most modern processors you'll find in laptops will do just fine for school work. 
If the laptop you're looking at has an Intel processor, know that 8th-Gen Intel Core processors and newer will all but guarantee decent performance. If you don't see a generation listed, you can always find it out by looking at the processor's name, as the generation number always appears in the underlined spot in the examples: Intel Core i7-9700, Intel Core m3-8100Y, Intel Core i5-11300H. 
For AMD processors, you'll find Ryzen 3000, 4000, and 5000 series processors are up to snuff. For higher performance needs look for Intel or AMD processors that have an H at the end of their model name – these indicate higher-power models that can offer more cores or boost speeds. 
Your computer's memory, or RAM (random access memory), is what keeps all your applications up and running. It's measured in gigabytes, and the simple thing to understand is that more is better. For most people, 8GB of RAM is plenty. But if you often work with a lot of windows and tabs open (especially in Chrome), you may start to use it all up. 
Your computer can start to feel a lot slower if all your RAM is getting used, and you may have programs crash. The upgrade to 16GB will more likely than not cover most users' needs outside of 3D modeling or high-res video editing. You may even be able to get by on 4GB if you tend to use your computer lightly for word processing and browsing with just a few tabs open. 
It's easy to keep a lot of important files saved online, so storage has become a bit less important for our laptops. You likely don't need a terabyte on your laptop if you stream movies and music. If you plan to game after class, that's when extra storage will be most crucial. For non-gamers, 256GB or even 128GB will likely be enough. 
What's most important is getting solid state storage (or an SSD), as these will make for a system that's lighter and feels much snappier than a system with a hard drive (or HDD). If you think you might need more storage in the future, many USB drives and microSD cards can serve as auxiliary storage while adding almost no bulk or weight to your laptop.
These are surprisingly important. A computer that has only USB-C ports may feel modern, but it can become a pain to interface with a lot of accessories. Many mice, keyboards, and external drives still rely on USB-A ports, so it can be handy to have at least one available. 
If you want to get high speeds out of the USB connection, check the version: USB 2.0 is fine for a mouse or keyboard, while USB 3.0 and above are handy for external drives thanks to their fast transfer speeds. 
For even more speeds, you can look for Thunderbolt. It can also be helpful to have a laptop that charges over a USB-C port, since you'll have more options should you need to borrow a friend's charger.
This may seem like a no-brainer, but your laptop's weight is going to matter a considerable amount for school. We'll start with 4 pounds as a baseline. That's a common ballpark for a lot of laptops, and it likely won't feel too heavy in a good backpack during short trips between classes. 
But, if you often bike or walk with your laptop, aiming for a laptop below 3 pounds can spare you some backaches. Heavier, high-performance laptops can quickly top 7 pounds, and though that may not sound like a lot, you'll quickly start to feel it when combined with your books and other school supplies. And, chargers are a compounding factor, as lighter laptops tend to have lighter charging bricks while heavier laptops have beefier bricks. 
Best Laptop Computers for College Students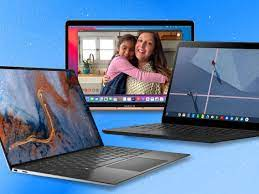 1. All-Around
The first laptop on the list is a solid, all-around choice for college students. The Dell Inspiron 14 (7000) is a laptop with plenty of essential and helpful qualities for any student entering college life or looking for an upgrade.
The company's laptop portfolio has a unique position for the Dell Inspiron 14 2-in-1.
The Inspiron 14 2-in-1 borrows a few features from higher-end laptops, including a metal lid, a fingerprint reader, surprisingly good speakers, and a sharp touchscreen that flips around into tablet mode. However, Dell typically reserves the Inspiron line for its least expensive and clumsiest consumer-grade computers. But a closer look indicates where the compromises are.
The laptop is heavier than high-end PCs with comparable specs, has a dull display, a plasticky trackpad, and a partially plastic chassis.
While a bit pricey (around $800), this laptop comes with HDMI support and an ethernet cord, as well as a microSD card. The Dell Inspiron 14 contains a high definition 14-inch screen and supports higher-speed wifi like Wifi 6 if your college supports it.
NewestDell Inspiron
Specifications:
Sturdy construction and keyboard
Great performance for the price
Loud, punchy speakers
2. Premium Care
If you find money isn't the biggest problem for you and want the premium laptop treatment, the Dell XPS 13 is your match made in heaven. The Dell XPS 13 Plus is a high-performing device that also draws attention because of its attractive, futuristic style and generally reliable performance. But it doesn't always outperform its flagship sibling in every way.
This laptop is a powerhouse when it comes to performance capabilities. Its Intel Core is 8th-gen and i5-i7 CPU packed into an HD screen just over 13 inches.
However, as mentioned, this laptop is gonna cost you, generally somewhere a little over $1,000. That is definitely an investment, but it'll last you well beyond your college years.
Dell XPS7390
Specifications:
Eye-catching new design with LED function row, to-the-edges keyboard
Slim, light, and super-compact metal build
Eye-catching new design with LED function row, to-the-edges keyboard
Slim, light, and super-compact metal build
Brilliant 3.5K OLED touch display on our unit
Speedy overall performance with Core i7-1280P CPU
Short on ports, most notably a headset jack
"Invisible" touchpad can be overly sensitive to presses
Middling battery life for its class
3. Sleek Design
If you're into a sleek design or a general die-hard Apple fan, the MacBook Air 13 is the best laptop choice when it comes to Apple's college computers. The 2020 MacBook Air 13 has upgrades like more powerful processors and efficient keyboards, but it also has that classic lightweight and sleek design that Apple delivers.
Apple's MacBook Air has long been a favourite among ultraportables with a tiny profile, but it has only occasionally gotten modest improvements. We appreciated the early 2020 model update, but other than the keyboard upgrades, it was hardly a game-changing revision. The performance of the MacBook Air has traditionally been subordinate to its cost and size, but this paradigm has changed with the release of Apple's own M1 CPU.
Of course, that means that this laptop comes with an Apple price point (around $999), so make sure to factor that into your college computer choice.
Apple MacBook Air
Specifications:
Exceptional battery life

Sleek, portable metal design
High-quality keyboard, touchpad, and display
Multiple color options
Good value, especially for a MacBook
Much-improved performance, thanks to Apple's new M1 processor
Exceptional battery life
Sleek, portable metal design
High-quality keyboard, touchpad, and display
Multiple color options
Port selection limited to two USB Type-C connections
Still no touch-screen option
4. Classic Quality
Another laptop that delivers that classic quality is the HP Envy (2019). The new HP Envy 13 is everything the new Apple MacBook Air should be: quick, stylish, and reasonably priced. That is not surprising considering the previous model spent more than a year at the top of our list of the best laptops for colleges. HP could have easily duplicated that design, upgraded its components, and re-released it, and it would still rank among the best Ultrabooks available.
Instead, the business sent us a better model with a more upscale appearance, a vibrant and bright display, and excellent speakers. It is difficult to understand why someone would choose the MacBook Air over the Envy 13 when that is combined with a lengthy battery life (on the 1080p version), a nice keyboard, and an affordable pricing.
Yes, at this point, you should probably consider laptops with 10th Gen CPUs but the 8th Gen-powered Envy 13 is still a great option. It's also one of the laptops with best battery life.
Still coming up on the pricier end of the list (in the $1,300 range), the HP Envy 13 delivers when it comes to fast performance and longevity. This laptop also comes with a modern design and amped up security features — not to mention strong speakers and a bright display screen coming in at 13.3 inches.
HP Envy 15T x360
Specifications:
Low price.
Sleek metal styling.
Handsome 4K touch screen.
5. On A Budget
If the prices of these laptops have been a major turnoff for you, here's the best laptop for students on a budget. The Acer Chromebook 15 will only cost you around $300!
However, you are going to miss out on the higher-quality aspects that other laptops offer. But that's where you have to prioritize and ask yourself what matters to you more on a computer.
This is a fantastic Chromebook with many interesting features. The large, bright screen is ideal for viewing colourful videos and for having several open windows for work. You won't need to be tied to a desk thanks to the outstanding battery life, and the Acer Chromebook 15 won't be slowed down by much because to the light and quick Chrome OS. However, the constrained onboard storage, hefty size and weight, and dearth of complete app options might be a little too restrictive. In the end, it's ideal for light, straightforward use at this price point.
If you want something that simply gets the job done, the Acer Chromebook 15 is the laptop for you.
Acer Chromebook 15
Specifications:
Excellent battery life
Big, bright screen
Very affordable
6. Tablet-like
Sometimes the perfect laptop for a college student isn't a laptop at all, but a tablet. However, if you can't pick between the two, you can get both with the HP Spectre x360.
This laptop (costing around $1500) is one of the better choices if you're into getting hands-on with your devices and rely on quality material. The HP Spectre x360 will offer you laptop and tablet features while consistently supplying you with fast performance, bright display, and a monster of a battery that can last up to 13 hours. It can also be counted in the category of gaming laptops.
HP Spectre x360
Specifications:
Striking angular design
Excellent performance
Beautiful display
Great keyboard
7. Aesthetics
If the design of a laptop is something that matters a lot to you, the Asus VivoBook S15 (S533) could be your perfect pick. This laptop will cost around $700 and offers various ports as well as a fingerprint reader and a bunch of different color sizes to suit your fancy.
This college laptop also has a larger, 15.6-inch screen with thin bezels and full high-definition resolution to satisfy any viewing criteria. So not only is this among best college laptops but is also great for the student that values a "look," it's also a solid choice of laptop for a good price in general.
ASUS VivoBook S15
Specifications:
Premium aesthetics
Well-rounded audio
amazing battery life
8. On-The-Go
The ultimate portable laptop is the Microsoft Surface Go. Not only is it a solid 2-in-1 laptop, but it's also light on your budget and in your hands.
Among the best laptops for college, this computer also provides you with some hands-down performance for a solid price. The pen that comes with the tablet interacts well with the features and the screen is only 10 inches.
The small design is easy to carry around and perfectly versatile. If you're always on the go and need a hi-tech notebook that can do so much more, this windows laptop is perfect for you and will only cost around $500 laptop for students!
9. For Fun!
Finally, there's the choice to have a little fun with your personal computer. Sometimes what's really valued is the way that your computer can help you complete work as well as help you relax.
The Lenovo Legion Y7000 gaming laptop is a great choice for a computer that helps you get the job done but also play some games on a stable PC console. A lot changes between high school and college academically and socially, but the need for a little break never fades.
That's why the Lenovo Legion checks both of the boxes because of its ability to run most games with a sleek design and a bright display of 15.6 inches. It also holds out fairly well performance and battery life that end up costing you a bit more (around $1,500).
Lenovo Legion Y7000
Specifications:
Faster load times with SSD

long battery life
144Hz refresh rate
Your Ultimate Choices of Computers for College
Somewhere within this ultimate list of laptops for college students, this one is for you. But now you've got the creme of the crop to choose from!
If you're looking for a place to dive deeper into the laptop and laptop-related world, you've arrived at the right place. Discover the best laptops by reading reviews and finding out more information about laptop accessories like the best headphones or the perfect mouse.
There are also tons of tips, tricks, and recommendations that can help you with anything that has to do with your computer and how to use it properly. Enjoy checking it out and learning more!