The demand for accessories raising with the latest technology products along with the most advanced laptops. People like to consider the best thing for operating their laptops with compact and ultra-thin design items to make sure of its portability. Today we spend a lot of time on our machines, so we needed laptop accessories which few are essentials.
Although choosing a new laptop might be a daunting task, once you've found the one that best suits your needs, half the joy of the process is figuring out what other items you might need to go with it.
There are several laptop attachments available, and determining which one you might require will depend on your specific use case. But there are lots of amazing gizmos and gadgets to make your life easier without adding too much bulk or difficulty to the laid-back experience of using a laptop, whether you're traveling, going to class, going to the office, or something else.
Laptop accessories help work perfectly for using it for long-term abilities period. As some accessories will protect your laptop from heating up or some give protection against damage.
Important Laptop Accessories To Buy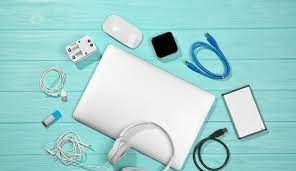 According to the research of IT experts, our editors have compiled a list of important accessories that you needed most with your laptop. All the mentioned accessories are useful, some are essential to protect your laptop and some are important for the best performance.
1. Laptop Bag
Students, businesspeople, or anybody else who requires a lot of room while traveling will love this lap backpack. It is ideal for any weather because it is made of premium water-repellent fabric. A USB charging port and an anti-theft design are just two of the many features it has. This bag has enough room to handle a 15-inch laptop and laptops up to 17 inches in size.
The most important thing to buy is a laptop bag. It is essential for protecting your expensive laptops from dropping off, damage, water resistance, and carrying abilities while traveling.
With the latest trends, you can choose your laptop bag, as there are different beautiful laptop bags available with classy and protective abilities. There are a few things to remember while purchasing a bag:
The bag should be of standard size, so your laptop fits into the sleeve bag easily.
It must have space to carry laptop accessories along with your laptop.
The laptop bag should be water-resistant and durable for long-term use.
You must check its warranty to avoid any faults in it.
They should look trendy and importantly must be protective.
2. External Hard Disk / Portable SSD
An external HDD is needed to back up your laptop's data by storing it on HDD. This is a useful accessory for your external monitor laptop in case of damage or anything wrong with the laptop. Before buying an external HDD you must consider these features:
Speed: You should consider its rotation speed and interface like USB2, USB3anSATA, and.
Security: Most HDD drives promise secure storage like encryption as well as software suites and more.
Durability: Always remember you don't purchase such things every other day or month, so check for durability and warranty before purchasing a hard drive.
3. Portable Charging Bank / Power Banks
We hate it when we are doing something important on our laptop and it dies. So you can do two things in the first instance; put it on charging or using a power bank.
A portable power bank saves your neck when there is no option of charging your laptop whence you are in a car or traveling. This device will help save time and stop your laptop to shut down from working.
Now the main thing you should be focused on is the battery life of a power bank there are various battery technologies. Do not buy a cheaper one it may cost you less but would fail to fulfill your requirement and you may face more difficulty than comfort. Because the battery of the cheaper one gets, many companies lie about the lifetime of the battery.
The keyboard cover is one of the most important accessories to protect the laptop from damage. Silicon keyboard covers protect your keyboard from dust and water. These the are thinnest covers that are removable and easy to wash.
5. Laptop Stands & Lap Desks
It's better to use your laptop desk while using your laptop on the bed. it will protect our body from heat produced by the laptop and also will keep it cool from heating up.
6. Wireless Mouse
You should buy a wireless mouse for good mobility. There are a few expensive best laptop accessories models but you can find them according to your range. These are a few mice you can purchase along with your choice, like MX Anywhere 2, Razer Orochi, Jetech, and Surface mouse. You may also find online further choices.
7. Mouse Pads
You should buy a mouse pad along with a wireless mouse, as they are ultra-thin and have precise surfaces. mousepad helps the performance of an optical mouse for cursor movement.
The mousepads come with rubber and plastic cushions with a textured surface for keeping your hand or wrist comfortable. They come in all sizes and varieties for durability and best performance e.g. Razer Kabuto / Goliath Pad and 3M Precise Mouse Pad for a wireless mouse.
8. Bluetooth / Wireless Keyboard
Today wireless keyboards are in a fashion that allows you to connect to different devices. You can connect computers, laptops, and tablets with the help of infrared or radiofrequency technology. You can choose one according to your desire. Here you can see DISCOUNT ON WIRELESS KEYBOARDS
9. Speakers / Computer Speaker System
I think it's a better idea to keep a speaker set for your laptop because most laptops have low sound. Compare the best speakers in the market and buy one at a good price.
10. Laptop Cooler Pad
When you work for hours on the laptop it gets heated up, so making the laptop cool with a cooling pad is a better idea to save your laptop from excessive heat up.
11. OTG cable
You can connect a USB with an OTG cable and HDMI port to your mobile phone and access the contents. It also connects your keyboard to your phone. You can connect many things with this cable like a USB fan, game controller, LAN cable, external hard drive, and card reader.
12. USB Flash Drive Laptop adapters
If you need your documents along with you, then USB Flash Drive is an important laptop accessory to buy. It can store any format of data like photos, music, videos, and others. Someone can possess a flawless false ID. However, the chances are that their security ends with the plastic piece they're carrying. You could ask the person to provide you with their social media profiles to provide a way to verify who they are. To use a legit fake id there are some features that the fake id must have. It needs to have a hologram and a scannable code on the back.
13. Laptop Adapters
Laptop adapters can cant convert the AC supply to DC to charge your laptop's battery in the car. They work efficiently in all countries.
14. Headphones
The headphone is the most important accessory for listening to music, watching movies, or playing games for clarity of sound and privacy. It is available in different colors and sizes and you can get it from Amazon.
15. Game Controller Remote
You can purchase a game controller remote for playing PUBG on laptops. It will save your laptop keys from early damage.
16. Record Clip
For people who need to keep their hands free while using their laptops, the Kensington Flex Clip Copyholder is ideal. The copyholder has a 360-degree rotating design that enables you to position it at any necessary angle, and it can be mounted on either the left or right side of your laptop screen. Additionally, it features a built-in clip that has a capacity of 100 sheets of paper.
17. Laptop stickers
A simple and enjoyable way to customize your lap is using stickers. There are many different kinds of stickers available, including holographic, metallic, and vinyl ones. Additionally, stickers with quotations, patterns, and animals are available.
Decorating your laptop can be a way to personalize and customize your laptop. Are you tired of looking at your boring laptop cover and want to decorate it with some more imaginative and creative ideas? Using some simple materials that you can purchase at a craft store and might already have around the house, you can make your laptop reflect who you are as a person. When decorating your laptop, be sure to take care to avoid damaging it.
Choose which laptop components you want to beautify.
When it comes to utilizing decals to adorn your laptop, you have a lot of possibilities. The top, the keyboard, and even the touchpad may all be customized.
Make sure to carefully select decals, skins, and stickers that are designed for that purpose if you plan to adhere anything directly to your laptop (not the protective cover). Vinyl is a common material for stickers intended for this use.
Shut off your computer and clean it.
All of the surfaces on your laptop should be clean for decals, tape, skins, and stickers to adhere smoothly. Avoid using surface cleaners and instead, use water.
Clean the surfaces you'll be applying any type of decoration on using a moist, not sopping, towel.
After wiping down the laptop, wash your hands to help keep it clean.
After wiping down the laptop, use a dry towel to make sure it is entirely dry and prepared for decal application.
Make your keyboard prettier by using washi tape.
A well-liked technique for personalizing your keyboard is to use washi tape. It's okay to use washi tape, a kind of decorative masking tape, on your keyboard. You can mix and match any of the dozens of patterns that are available.
Washi tape is available in many craft stores. Many retailers provide it online as well.
Cut tape strips to fit each key's size and adhere them to the keyboard. On the tape, you might want to carefully write the relevant letter. Washi tape can occasionally be fairly thin. In that instance, you may still see the lettering through the tape.
Put a skin on your laptop to decorate it.
Skins include intricate images that cover the full-back (behind the screen) of the laptop. When you want a single, impactful image, skins are fantastic.
Many websites allow you to post your own photographs to turn into laptop skins or even buy skins that have already been prepared.
Additionally, you can create your laptop skin by purchasing sticker paper and putting the desired image onto it using a computer printer.
Apply the skin to the laptop's edge by gradually peeling back one of the skin's edges. Then, while using a straight edge (a credit card) to smooth the skin down, gradually peel the back of the skin away.
An Ice Pad
The purpose of a laptop cooling pad is to assist in laptop cooling. Three fans on the laptop cooler can be adjusted to any height and width depending on the size of your laptop. The cooler will not only prolong the life of the laptop's battery but also guard against overheating and CPU burnout.
Wireless Speaker
The JBL CHARGE 5 Portable Bluetooth Speaker is intended for those who enjoy watching or listening to music on their laptops. A built-in 6000mAh battery in the speaker can be used to recharge your phone, laptop, or tablet. Additionally, it boasts a 20-hour battery life and a Bluetooth range of up to 30 feet.
Miniature Projector
You can take the Anker Nebula Capsule, a wireless and intelligent tiny projector, everywhere. You may use it for up to four hours on a single charge because it includes a built-in battery. You may wirelessly share your laptop screen with other devices like your laptop or TV thanks to its integrated WiFi, Bluetooth, and Dolby Digital sound technologies.
Hub USB C
The 7-in-1 hub that offers a range of connectors, the Kingston Nucleum USB C Docking Station, is ideal for connecting your laptop to multiple devices. Three USB ports, an SD/micro SD reader for memory cards, and a headphone connector are included in the USB C Hub. Additionally, it offers two USB c ports connectors and a Thunderbolt 3 port. By doing so, you can attach your laptop to things like an external hard drive, a display, or even other Mac or Windows laptops.
HD Video
A laptop camera with high definition capability and 1080p video recording capabilities are the Logitech HD Pro C920. It also boasts features that make it ideal for video conversations, like a wide field of view that lets you include more people in the shot, a built-in stereo microphone, and an external microphone connector that lets you manage the volume.
Adjustable Standing Desk
The adjustable standing desk, known as the Readydesk 2, may be mounted on any surface. This desk has a must-have laptop stand that enables you to utilize two monitors simultaneously and is compatible with PCs up to 27 inches wide. And there's still room for your office supplies on top of all that.
Streaming Stick for Gaming
The revolutionary Google Stadia Premiere Edition transforms any laptop into a potent gaming machine. The majority of laptops lack gaming hardware, but you no longer need to download the files locally to your computer or TV to stream and play games from anywhere in the world.
Fabric Case Bag
A fabric case called the Inateck laptop/tablet bag sleeve is made to prevent scratches and other damages to your laptop without adding extra bulk to it. It is built of premium materials and has a sleek design, making it practical and long-lasting for daily usage. Additionally, it is available in several sizes to accommodate Windows and MacBook Pro laptops.
FAQS For Important laptop accessories to buy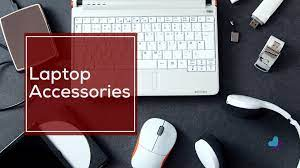 Q: What are some important computer accessories?
Important Computer Accessories Students Must Have
Wireless Keyboards: Wireless keyboards allow you to turn any flat surface into a desk.
Wireless Mouse:
Small Printers.
Cooling Pads.
Webcams.
Laptop Cable Locks.
USB Flash Drives.
External Storage Devices.
Q: What components of a laptop are the most crucial?
The CPU is one of the most crucial components of the laptop because it makes the machine work. It can read the code that is kept in the computer's memory and instruct the other components to carry out what the code directs.
Q: What is the name of the computer accessories?
The physical components of a computer, such as its chassis, CPU, RAM, monitor, mouse, keyboard, computer data storage, graphics card, sound card, speakers, and motherboard, are referred to as computer hardware.
Conclusion
In this article, we have discussed all the important laptop accessories to buy for better performance and experience. Now it's up to you to choose the model and brand of the company as these are helpful and the most needed equipment for your laptop.
When it comes to quick computing, laptops have become a jack of all trades, producing excellent results for both business and leisure as well as gaming needs. A laptop comes with almost all the components it needs to function daily, but adding accessories can expand its functionality and improve speed. Today's laptops may generally be adjusted to your needs.
Whether you're a voracious reader, traveler, die-hard gamer, or just someone who likes to keep things as organized as possible, several laptop accessories can make it work.
If you want a high-quality experience, don't forget to operate your laptop wisely and add some computer parts to its inventory.