When you buy a console, it comes with the perfect controller to play almost any game. When you buy or build a gaming PC, you may not be so lucky. Cheap office mice won't give you peak gameplay performance, and even a pack-in gaming mouse (if you're lucky enough to get one) might not be the right tool for the job. What to look for when buying a gaming mouse?
It is recommended you should buy a wired gaming mouse because it won't lag and is more stable than a wireless mouse. Well, we know the latest technology offers better performance, and cordless situations do not mess up with cords anymore but they still have a long way to go.
The only thing matters to gamers are its functionality and performance not eliminating cable from the desk only.
Gaming Mice vs. Average Mice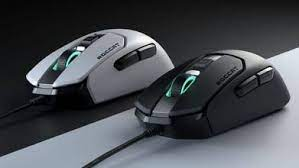 Playing competitive online games often requires a more detailed level of precision and customization. While a basic mouse will typically have a left and right click along with a scroll wheel, gaming options tend to feature added side buttons or other inputs. These extra buttons make gaming more comfortable and increase immersion while streamlining inputs in competitive online gaming.
One of the most significant benefits of using a gaming mouse for gaming compared to a traditional mouse is the software support. Depending on the device and software you choose, the software can be used to quickly and easily reassign buttons, adjust the sensitivity, or even set RGB lighting options. Not all gaming mouse software is created equal, so make sure to check the available features before making a final purchase!
Types of Gaming Mice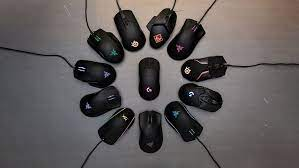 There is a wide range of gaming mice on the market today. While there are many highly specialized options available, most will fall into one of four types of gaming mice: FPS mice for aim and agility, MMO mice for utility, all-purpose mice for a bit of both, or customizable mice for more specialized situations.
Devices in these categories will not be identical by any means. However, they will share some designs and strive to accomplish similar tasks. Read below for more detailed definitions of each type of gaming mouse and why you might want to use each.
FPS games are some of the most popular in the world. These games pit players against each other in intense online battles and require the utmost precision. FPS gaming mice are typically lighter than alternatives and boast wide DPI ranges. Something that makes an FPS mouse unique is the inclusion of a sniper or slow-down button. When pressed, it can quickly and drastically reduce DPI to help you aim as accurately as possible.
The main goal of an MMO mouse is to alleviate the number of inputs on the left hand while gaming. These mice are typically heavier than others and feature as many additional buttons as possible on the sides of the mouse. When using WASD to move, these mice can allow players to bind and use a multitude of skills or abilities with their mouse hand for maximum comfort and efficiency. Software support is crucial for MMO mice because different players will require drastically different key bindings.
While some might consider all-purpose mice cheaper alternatives, that is not the case. What makes a mouse an all-purpose mouse is the combination and proper utilization of multiple features of other types of mice. These devices feature smaller ranges of DPI but come in all shapes, sizes, and weights.
Most often, all-purpose mice will have two side buttons (typically on the thumb side), which can be reprogrammed via software. If a device doesn't support software, it will likely have dedicated buttons to increase or decrease DPI.
The goal of an all-purpose mouse is to be viable for any game, so most features are not too extreme in either direction. All-purpose mice are great for casual or first-time gamers who play a wide variety of games.
When FPS or MMO mice don't cut it, there are customizable gaming mice. These devices are hyper-specialized and come packed with finely tuned features. Examples of customizable mouse features include adjustable weights, multiple connection types, or interchangeable ceramic mouse feet. Not every high-end mouse will come with all of these features, so be sure to decide which features matter most to you before diving into the expansive world of customizable gaming mice.
What to look for when buying a gaming mouse?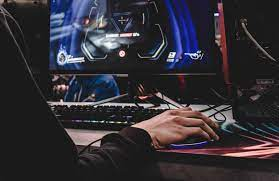 Gamers who are into PC gaming need the perfect gaming mouse to have a great experience. But, if you are new to PC gaming, it can be a tough decision to select the right gaming mouse from the wide variety of products that are available in the market. The perfect gaming mouse will help you with both precision and movement, even if you are playing FPS, MOBA, or MMO games. A perfect mouse also helps in other in-game actions like adjusting camera angles and switching weapons.
Gaming laptop users can also gain from getting a gaming mouse as it can provide more precision and comfort compared to touchpads. Let us look at some of the most essential factors that you should consider before buying a gaming mouse for you to pick the perfect one.
Gaming mice are a bit more expensive than a simple mouse. So, before spending money on the mouse you should consider the following things so that you may not regret it later.
Laser or optical sensor?
The majority of gaming mice available today have excellent sensors; if you purchase a reputed mouse, you are likely to receive a sensor in perfect condition. The best sensors excel in three crucial areas.
A good sensor will have the features listed below:
Accurate tracking over a broad DPI spectrum
Zero jitters
zero accelerated
No foresight and sudden angle change
rapid polling rate
minimal liftoff distance
Only a few sensors may truly be referred to as perfect sensors because they possess all of the aforementioned characteristics.
Here is a glossary of words related to mouse sensors.
In early times it is said that gamers used an optical mouse for playing computer games which provides more reactive sensors, unlike a laser mouse. With the passage of modern times when technology has advanced laser mice lag does not exist. Some of the manufacturers used laser gaming mice as their flagship products and experienced lag-free feedback.
DPI
DPI is a metric for determining how responsive a mouse is to movement. Your cursor will go farther every mouse inch as the DPI increases.
Although the perfect DPI for performance is a matter of personal opinion, most professionals prefer a low DPI so they can fine-tune their aim without having to move the mouse by a few millimeters to one-to-one.
The difficulty with some mice at high DPI is that the sensor is no longer tracking physical movement and employs software to boost sensitivity and optical sensors which might create inaccuracies. The majority of modern mice can track accurately at low DPI.
Wired or wireless gaming mouse?
Wired gaming mouse are preferred by most gamers as the cable serves two purposes: to transmit signals from the mouse to the computer and power the mouse. You don't have to worry about replacing or charging batteries with wired mice. They offer a stable connection as it is less susceptible to signal interference. Moreover, they cost less and offer a slightly faster response time (lag-free) than wireless mice.
However, the drawbacks of a wired mouse include — cables getting entangled with other peripheral cables at times, and needing cable management. Cables also mean that you can't use the mouse away from your PC desk.
Wireless mice pack a replaceable or rechargeable battery which makes them heavier. They are the better option if you want to be seated farther away from the screen. The lack of cables also boosts their portability. The drawbacks are that they are slower to respond, more expensive, and more susceptible to signal interference. Batteries also need to be replaced or recharged periodically most people would like the wireless mouse for intense playing and personal preference. But for a better experience with an ergonomic gaming mouse as you navigate through games or are a professional gamer you should choose a wired mouse.
If you like wireless technology but fail to see an efficiency level lower than a wired mouse then you must wait. You can say wireless mice are for non-professional players who can't notice a difference in performance.
In this case, you should enjoy all the benefits of a wireless gaming mouse without cables on your desk.
Prices of gaming mice
Both wired and wireless mice have a difference in their prices, considerably wired mice are cheap in rate. You do not need to charge it or face the problem with batteries but of course to deal with the cable clutter or cable lag.
Wireless mice are more convenient than wired mice, as they are portable and you can put them in a bag or drawer without tangling cables. A Wireless mouse for gaming is a bit expensive with no means of dragging or the necessity of mousepads.
You can enjoy playing games with optical mice even if you are far away from your computer screen without sticking to it. An ideal source while traveling, or if you are using your TV as a monitor then the wireless mouse is best for you to operate from distance.
Claw grip or palm grip
The most wanted gaming mouse is in the shape of the user's hand like a claw grip. People use their fingertips like a claw to position the mouse by pulling it into the rear of the palm.
When we hold the mouse with a claw grip it allows the mouse to be stable even if lifted. Claw grip is often used by gamers who would like precise movements like pulling the mouse around with fingertips and making fine movements.
Whereas the palm grip has a good feeling while playing games for hours because you can rest your whole palm on the mouse and drag it which looks more natural. In a palm grip, you hold your mouse with all your fingers and thumb and can be able to press and control keys more easily than in the claw grip.
Light it up
Gaming mice are beautifully designed for playing games and give you the special effect of playing in reality or virtual. Some of the mice have bells, whistles, and light shows which are personal preferences.
If you like to have a glowing mouse for playing games or according to your PC design and want a matching mouse. Do not forget to turn off your Pc from the wall socket because your Pc might still provide a 5volt charge to the mouse to keep it lighting.
Acceleration
The acceleration of a gaming mouse lets you build up muscle memory of the distance covered by the mouse and the cursor. it gets faster when you move the mouse faster 20cm across the mouse pad slowly or fast.
When you notice the mouse cursor would be on a different spot and you drag the mouse with the 20cm pace it will move faster with less effort that's acceleration.
Reliability & Warranty
Well, it's not enough about the specs of the gaming mouse. The other thing you should keep in mind before buying a mouse is reliability. You should have to check the warranty of the gaming mouse as they come with expensive rates.
So that if you face any issue regarding mouse performance you can return it to the vendor or the shop where you purchased it from. Check the user's reviews about the product you want to buy to know how long and lasts for gaming sessions or extended hours.
Play/Game Styles
It is very important to consider the genre of games that you like playing before selecting a gaming mouse. Games in different genres have differefocusescus and requirements as soprioritizeise more on precision and accuracy while others on faster movements.
The precision of the mouse is more important than having multiple programmable side buttons for First Person Shooter (FPS) games like — Call of Duty and Doom Eternal. You should always consider a mouse that is precise, reliable, and consistent if you are into such games.
On the contrary, having several programmable buttons can give you an advantage in Multiplayer Online Battle Arena (MOBA) games such as DOTA or Massively Multiplayer Online (MMO) games such as World of Warcraft.
Programmable side buttons can be used to access important features and skills quickly in games. For instance, if you play a Role Playing Game (RPG) such as The Elder Scrolls, you can configure the side buttons to impose spells and don't need to master complicated key combinations
Ambidextrous design
Ambidextrous mice are symmetrical in shape which helps both right-handed and left-handed users to use them comfortably. If you are comfortable using both hands, ambidextrous can allow you to reduce strain on one arm and switch hands during long gaming sessions.
10. Light vs Heavy
Gaming mice averagely weigh about 100 grams, but lighter ones can weigh as low as 80 grams while heavier ones weigh up to 165 grams. A light gaming mouse works well if you prefer to set your mouse at a low DPI/sensitivity, but still want to be able to make hard glides.
11. Build Quality
Most gaming mice are made of plastic with a matte or glossy finish. The type of finish determines whether the mouse feels soft or rough in your hand. A mouse with a glossy finish can feel sticky if your hands get sweaty and it is better to avoid a mouse with a finish material that gets peeled off easily.
Price And Warranty
Finally, you want to ensure that a gaming mouse's price is within your budget and includes a warranty. Having a warranty allows you to get your gaming mouse fixed or replaced at no extra cost within the duration that the warranty covers.
Below are some of the most popular gaming mouse brands:
Logitech
Steelseries
Razer
Corsair
Roccat
BenQ Zowie
HyperX
Asus
Nixeus
Coolermaster
Finalmente
Redragon
Mad Catz
Conclusion

what to look for when buying a gaming mouse
These are some important facts that should be considered before buying a gaming mouse. There are different varieties of gaming mouse available in the market and online stores. Depending on the quality of their desk, buyers may therefore want to invest in a decent mouse pad to go along with their new gaming mouse. There are a variety of sizes available from small to full desk pads as well as pads of varying degrees of firmness. You can choose according to your requirements and budget by visiting your near market or also can order on Amazon.
I can assure if you will consider the above-mentioned factors before buying a gaming mouse you will find the perfect thing according to your requirements.
Keep visiting LaptopsChamp for tech buying advice and the best laptop reviews.
Best of Luck