How to check if your laptop is new or refurbished? Are you willing to get a new laptop and ordered it online? It will be a good idea to learn how to check if the laptop is new or refurbished. This post will help you find the latest info and tips relevantly.
We all know that laptops are the hottest trend today.
Everyone just seems to get a new one or upgrade from previous models. Purchasing a brand-new laptop is not a cheap thing. Different online stores offer affordable prices than retail stores.
But let's face the fact here folks buying a laptop online have become more convenient and accessible from home. Imagine you ordered a new laptop from any online store and upon arrival, it is labeled as renewed.
How to check if a laptop is new or refurbished?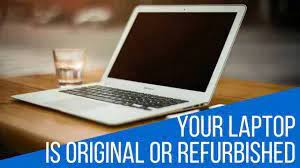 It is not always easy to find the difference between new and repaired refurbished laptops. But there are some reliable tips you can follow to determine the laptop you bought is new or used.
What is a Refurbished Computer? In general, a refurbished Laptop or Desktop computer can be defined as a returned product that is being sold by the seller with a Refurbished or Certified Refurbished label. Hence, most reputed manufacturers have a stringent certification program for refurbished products and offer the same 12-month warranty on refurbished computers
Is it necessary to check the laptop's condition?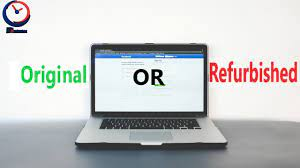 Let's get one thing straight folks, never fell for brands whether it is Dell, Samsung, ASUS, Alienware, HP, or any other major company. The consumer is the one who usually ends up becoming a victim and it is totally in your hand to identify if you are getting robbed of your money or getting a decent laptop.
When we search online and see the current prices are higher than our budget and we think it is better to buy a used one. In the excitement of getting a new laptop, many people often forgot to check whether or not a laptop is working perfectly.
I am pretty sure a lot of us regret this decision when finding out something is malfunctioning or does not work at all.
I am here to spare you from all the hassle and will give you decent ideas to check whether the laptop is new or refurbished.
This is why it is necessary to check even if the warranty says it's brand new because it is better to be safe than sorry.
Best tips that can help to check if a new or refurbished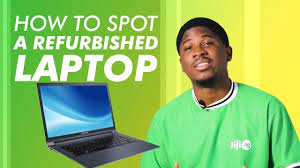 Is your laptop loading programs slowly, showing error messages, and shutting down suddenly?
There could be different reasons behind this happening and a lot of them could be serious issues. Before buying a PC or laptop you need to check all popular online stores to find out the best deal.
But do you truly checkout it every component before actually buying it? The value for your money is nothing if the thing you purchased gives you 0% performance.
Below I have listed some real facts that can help to check if they are new or refurbished. Here you can learn about the important hardware components that truly determine whether the laptop is new or refurbished.
Not all these issues require any kind of professional expertise. Instead, the laptop fixes can be done at home.
Depending on the model, version, and OS (operating system) of your laptop there are several options to diagnose and figure out what is the core issue coming from. Here are the common issues that show the laptop is repaired:
If your laptop or refurbished notebook won't charge completely, then it means you need a new battery. The battery life of any laptop lasts three to five years. It depends on the usage of the laptop.
If a laptop is showing the red X icon on the battery icon then you can use third-party programs to see how much the capacity of battery life is left. Check the adapter cable; it is could be a reason for not charging.
The charging port is the indicator light that shows you are connected to the charger. If the charging port is broken then you must go to an expert for replacing the port.
Windows operating system can be shut down before any major issues occurred including a complete breakdown of the hard drive and usually showing a blue screen with an error message.
It is also called the bluescreen of death and it can happen once or twice and is a sign of major issues. You must have to read the error message and use windows troubleshooting software to perform a system recovery to restore it.
If this does not resolve, then you might need to reinstall windows to figure out what exactly is happening.
The laptop is getting hot
 One thing is certain all laptop gets a little bit warm during work. It is a recommendation by experts that don't use a laptop on your lap.
If you are using it on the lap desk you will feel the heat. But it gets too much hotter if it has some problems and needs to perform quick checks.
Allow 15-20 minutes for the laptop to become cool and then open the battery compartment. If a battery is extremely hot, then you should have to replace the battery. It could happen because of the clogged vents and the use of a dusting cloth to wipe them.
Make sure you are using a laptop on a safe, hard, flat surface and using cooling pads.
Shutting down unexpectedly
When your laptop turns off in the middle of a work or task it could mean there are battery issues. First of all, you need to check the laptop is plugged in and charged completely. Then turn it on and see what happens next.
If you hear the laptop is running and there is nothing on the screen then you must restart it and see what the issue is. Make sure to create a backup of your data as soon as possible and take a laptop to a professional for an inspection.
This issue is similar to a heart problem, but the symptoms are quite different. If you have a dirty or clogged fan, or blocked vents built up inside the laptop you can start using these procedures to get rid of heating issues right away and pinpoint the exact course of noise.
This can be an intermittent noise issue
Try to eject the DVD Rom drive and see if it stops or not
It could be the hard drive issue; click or crack noise means the hard drive is failing
If you simply diagnose the noise problem then you don't feel hesitate to take it to a computer expert for repair.
If you are typing and the laptop does not respond then there are several things to blame and need to be checked right away. If there is dust or dirt on the keyboard it could be the main problem of the unresponsive keyboard. You have to use compressed air to clean the keyboard carefully.
If you notice any damaged keys then cleaning won't work at all. You can check the keyboard status and find out more about it and take it to replacement.
The cracked and blurry screen
Laptop screen repair is a big problem. It is one of those issues that users can't solve by themselves. When you buy refurbished machines, used or new laptops it will show you if a laptop is repaired or new.
Computer virus and malware attack
If you notice the laptop is running slowly and pop-ups are appearing without any reason then it could be a malware or virus problem.
First, you can restart the laptop and access the updated security screen
Click on recovery and advanced startup for rebooting to safe mode
After the laptop is turned on you will notice some programs are missing or appears in a strange way
Search through the antivirus and run an update to make sure the detection tool works
Run complete system scan, it might take a few hours to complete
After it is finished, restart the laptop you will see it will normally perform the task again.

Check the serial number of a laptop
Take the product key from the bottom of the laptop and write it down on paper like on hp laptops. You can locate the bios serial number or model number on the sticker with a brand name such as a hp laptop. Just type the number of the product on the manufacturer's website to see all details about when this laptop was built and sold. Please note that the Storage capacity even of a brand new laptop will always be slightly lower than what is indicated in the box. The difference will often be some GBs less.
Conclusion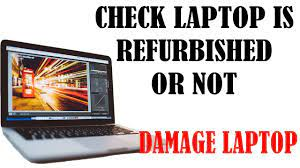 It is not always easy to find the difference between a new and repaired laptop. But there are some reliable tips you can follow to determine the laptop you bought is new or used. If you are not sure what your laptop is or it is too inconvenient to go look for yourself, take it to a computer store. These are the real facts about how to check if the laptop is new or refurbished. For any newbie who wants to buy a laptop, he must have well knowledge to make a difference between a new and refurbished laptop.
I hope this information proves useful for people with laptop issues regarding their needs. Just follow these tips and you will appreciate it in the end.
Keep visiting LaptopsChamp for tech buying advice and the best laptop reviews.
Good Luck