Best video editing software
A compelling video may contribute to the success of your brand in a world where visual content is king. However, using editing software is the only way to produce beautiful video footage.
The majority of well-known video editing programs cost a lot of money, but some excellent alternatives are completely free. That's fantastic news for entrepreneurs with big dreams!
Using the best free video editing tools will give your company a polished, expert appearance, whether it be in Instagram Stories, Facebook commercials, or YouTube product reviews.
Editing a video was a nightmare for a lot of people until a few years back, but today the whole process of curating and editing professional-grade videos has been simplified. Nowadays, you can edit videos easily on an online video editor that comes with comprehensive in-built tools, pre-made templates, and a drag-and-drop interface. Creating engaging video content is crucial for marketing, YouTubers, personal branding, and shooting independent series or documentaries.
With a pool of free online video editors to choose from, it is now possible for anyone without technical expertise to create and edit videos. Video editing is a skill that transforms raw footage into stunning video content by stitching footage together, adding transitions, and applying customizing tools. Here is a list of the best 15 video editing software for 2022:
8 things to consider when selecting the finest video editing program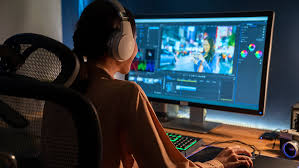 Many functions are included in a variety of video editing programs. It is quite simple for anyone to become perplexed in the field of video editing software, regardless of one's expertise level, i.e., whether one is a novice or a professional in the editing world. One could have certain requirements for the workflow, and occasionally a highly technical application might not even meet those requirements. Let's discuss some considerations to make when picking the finest video editing software:
Choosing software should be based on experience
Nobody wants to start using a very sophisticated editing tool or piece of software as an amateur. It is generally advisable to select software depending on your requirements or demands, and it must be a basic platform for video editing. It will aid in boosting productivity and produce a beneficial workflow. Even the likelihood of confusion is extremely low or nonexistent. In the end, using a cracked or even a cheap edition of editing software might be sufficient.
One may also choose free trials at first to comprehend video editors. An individual can use these trails to practice using the software capabilities directly. In the end, the user can determine whether the software program is flawless.
Choosing software should be based on an easy workflow
A few pieces of software are quite difficult to use. Even one person might believe that after working for roughly an hour, the task of importing the video into the editor has been completed. However, effective software is simple to use and assists in putting all tools at your fingers. It keeps your workflow organized, increases your productivity, and speeds up the video editing process. One of the best tools for a fluid workflow and speedy video editing is InVideo.
Select software according to your budget.
Unless you intend to use it for business, there is no need to invest in pricey video editing software. Many pieces of free software are available to make your home video look polished. The only requirement is that you comprehend your spending as though you can afford to purchase the software. Avoid spending $400 on software if your spending limit is $100 and the actual cost is between $300 and 400. Always keep your needs in mind when choosing a cost-effective solution.
Think about the audio possibilities
The ability to edit audio is a further element of your editing program to take into account. It facilitates time savings and even prevents unneeded stress during filming. It entirely depends, though, on how much you're willing to pay for your audio. Additionally, think about whether or not it is possible to remove audio individually. Always choose video editing software that enables the addition of audio or music, volume adjustments, and the use of the noise reduction effect.
The timeline should provide several functionalities
Regardless of one's level of expertise in video editing, having additional effects available on the timeline can be quite useful. Separating the music track from the video can have positive impacts and produce visually appealing editing projects. Consequently, taking into account such software options may enable you to select the ideal editing program.
selecting your final product
It's crucial to pick a video editor with the flexibility to accommodate your preferences for the finished project. As a result, increasing productivity and making the software extremely effective by taking into account the software that precisely matches the need
An amateur should begin by learning from a free or simple version. You can easily transition from the learning phase to the standard or the much more professional software version depending on your needs or requirements.
The top 15 desktop best video editing software
Here is a list of desktop computer programs for free video editing. Usually, desktop programs have better editing capabilities than mobile apps. These video editors can be used to create longer-form material for your website or YouTube.
Each of these video editors either offers a fantastic free version or is completely free to use. Their use spans from simple to complex.
Blender
Accessible on Linux, Mac, and Windows. For Windows, Mac, and Linux, Blender is one of the greatest free video editing programs on the market.
Open-source software called Blender is free to use. The program has pretty good video editing software, but it was initially intended to be a 3D animation suite.
You can use the editor to accomplish simple tasks like video edits and splicing. Additionally, you can perform more difficult jobs like video masking. As a result, it becomes a very versatile video editor that welcomes both new and experienced users with advanced features.
Among Blender's best attributes are:
Displays for the histogram, chroma vectorscope, luma waveform, and live preview
Wave visualization, audio scrubbing, synchronization, and mixing
32 slots maximum for adding audio, video, pictures, and effects
Controlling the speed, using adjustment layers, transitions, keyframes, and other features
Pros
Ideal for experienced users looking for complex editing tools.
Cons:
The learning curve is made steeper by the sheer number of features. The majority of the tutorials concentrate on the 3D modeling and animation side.
Lightworks
Another excellent free video editing app with a multi-camera is Lightworks.
One of the most capable video editors on our list is Lightworks. It has a tonne of helpful features that will enable you to produce high-quality videos. These consist of:
video editing with precision
the system
720p for YouTube export
Support for a variety of video formats in 4K
While the majority of the functionality of Lightworks is available in the free version, 4K video support for Vimeo and YouTube is only available in the subscription edition of the program, which costs about $25 per month.
Pros
Strong video editor with a variety of export options.
Cons:
Only the premium version supports 4K video. Lightworks may be too sophisticated for some people.
Shotcut
One of the greatest free video editing programs for Windows, Shotcut also performs admirably on Mac and Linux computers.
Since Shotcut is an entirely open-source tool, you can use all the features without having to purchase an update.
Even though this video editing program has many useful functions and instructional tutorials, some users might not like the interface very well. That's because Shotcut was initially created for Linux, as evidenced by its user interface. However, it's still a good video editor on the inside.
The timeline editing and support for 4K HD quality are two of Shotcut's most noticeable capabilities. Few video editors provide free support for 4K resolution.
Additionally, Shotcut saves you time by not requiring you to load your video into the editor when working with huge video files.
Additionally, Shotcut supports 1080p films at a frame rate of 60. Additionally, you receive three lossless export formats that allow you to transfer videos without losing quality (the only downside is the huge file sizes).
Pros:
Native timeline editing with support for 4K resolution.
Cons:
For some users, the odd UI could be off-putting.
DaVinci Resolve
Possibly the most sophisticated video editor on the list is DaVinci Resolve. Although it contains a lot of tools for professional filming, the interfaces are still simple. You can master audio and colour correction in addition to cutting and trimming videos. You can choose to add 2D and 3D titles to your video using the app.
The broad feature set of DaVinci Resolve can be overkill if all you want to do is cut and upload your films. The free edition of this software is difficult to surpass, though, if your video project is a little more complicated.
Features of DiVinci Resolve include:
specialized trimming
multi-camera editing
color specialized rectification
audio recording
Pros:
Incredible color correction and intuitive user interfaces.
Cons:
It can be a little intimidating due to the variety of capabilities, and not all tutorials are free.
OpenShot
Given its completely open-source nature, OpenShot is among the most user-friendly video editing programs.
iMovie may come to mind for Mac users when using OpenShot due to its user-friendly drag-and-drop interface. OpenShot, however, offers many more functions, such as infinite layers and audio mixing.
This free editor successfully balances a straightforward user interface with cutting-edge features. When you build transitions between clips, it additionally displays real-time previews.
The features of OpenShot include:
Countless tracks and layers
Real-time previews of the clip resizing, scaling, trimming, snapping, rotation, and cutting video transitions
Watermarks, image overlays, and compositing
titles, titles created from templates, subtitles, and 3D animated titles
superior timeline (including drag and drop, scrolling, panning, zooming, and snapping)
Pros:
Open source, unlimited layers.
Cons:
Few video tutorials.
Avidemux
One of the greatest editing programs for beginners wanting to create engaging video material is Avidemux because of its straightforward UI. Basic editing is a breeze with this application, including:
easy cutting
encoding
filtering
This can be a nice place to start if you are brand-new to video editing.
Pros
No need to study technical documentation; very easy software.
Cons:
Fewer features than those of other video editors.
HitFilm Express
One of the best free 360 video editing programs for Mac and PC users is HitFilm Express. It includes all the functions you might anticipate from a fundamental editor, including audio editing, trimming, and splicing.
HitFilm is one of the greatest all-around video editors out now, even though some users might find it a little complicated. Hit Film's free version comes with over 180 special effects and training based on well-known Hollywood productions like Star Wars. These result in an extremely interesting and dynamic video editing experience.
Hitfilm requires you to post a status update on social media before you can download this program. This is a pretty little price to pay for such sophisticated software, though.
Features of Hitfilm include:
superior cutting tools
green-screen effects keying
filters for audio and video
composing instruments
Masking and layers for 3D video support
Pros:
A truly cost-free, professional video editor.
Cons:
Learning how to use the UI could take some time.
video
Marketers, publishers, and agencies all benefit greatly from using this online video editing tool. Users laud InVideo for its outstanding customer service, user experience, and financial value. This desktop-compatible program is the finest in its field for a variety of factors, including support for intelligent frames, automatic voice-overs, and much more.
The creators of InVideo frequently add new, excellent templates. The UI is very user-friendly and incredibly flexible, making it perfect for both novices and seasoned professionals.
The characteristics of Invideo include:
audio equipment
logo or text overlay
Collaboration
speed modification
Split/merge
HD resolution assistance
stabilisation of video
Pros:
Awesome for creating quick presentation videos.
Cons:
It is not an all-in-one, 360 video editor. You cannot add more than one audio file, etc.
iMovie
iMovie is already included with macOS. This editing software for beginners is fairly simple to use, just like the majority of native Mac programs.
Moving and editing video elements happens quickly with iMovie's drag-and-drop interface. This best free video editor program can be used by Mac users to practice the fundamentals of video editing.
The features of iMovie include:
Premade transitions library
cutting videos
sound editing
Support for split-screen 4K resolution
Pros:
simple to learn.
Cons:
Features may be a little limited for advanced users, and import and render times may be a touch lengthy.
VSDC Free Video Editor
VSDC is one of the top free 360 video editing programs that are only compatible with Windows. The comprehensive range of functions in its free version includes color correction and audio editing. You can alter the video's appearance using color blending to reflect your brand's aesthetic. You may also make different-shaped masks with VSDC to obscure, conceal, or highlight particular areas in your movie.
If you're seeking suggestions for a premium video editor, VSDC offers a pro edition for $19.99. All the capabilities from the free version are included, along with image stabilization, voice-over support, and visual waveform. If you decide against upgrading to the pro edition, technical help is available for $9.99 per month or $14.99 per year.
Most of the products on this list come equipped with motion tracking, but VideoStudio still boasts one of the best motion tracking systems around. One of the knocks on VideoStudio is its speed, which lags notably behind some of the faster systems on this list, like CyberLink
Pros:
Powerful features, including Instagram-like filters that save editing time.
Cons:
Technical support is not free; supports Windows only.
Machete Video Editor Lite
The finest free video editor for quick editing chores on a Windows machine is Machete Video Editor Lite. While you cannot modify audio clips with the software, you may take away audio tracks from your videos. Machete only accepts AVI and WMV files at the moment.
Features of Machete Video Editor Lite include:
Video file fragments can be copied, sliced, pasted, and deleted.
Integrate one kind of video into another
Edit file tags (metadata) for all supported media formats.
The video stream should be extracted as a separate file.
The complete edition, which costs $19.95, includes compatibility for more file kinds and the ability to modify audio.
Pros
Extremely easy to learn and utilize.
Cons:
Limited to Windows; fewer file types are supported than by other tools; no audio editing.
VideoPad
One of the greatest video editing programs for getting started with multimedia video editing is VideoPad. Given that it's straightforward and quick to use, it's ideal for anyone just getting started with video compositions. But more experienced video editors might find it too simple.
The characteristics of VideoPad include:
Premade transitions library
Export motion pictures in various resolutions
editing 3D videos
minimize camera shake
sound effects collection
Pros:
robust features for exporting content directly to YouTube and other social media sites.
Cons:
Too easy for more experienced users.
Freemake Video Editor
Freemake is a free video converter that enables you to edit, convert, and embed videos on websites as well as extract audio from video files. The tool is quick and easy to use, and it also allows you to convert videos for viewing on different mobile devices and other gadgets.
The software supports many audio and image file formats for making slideshows and video clips, and it can convert videos into more than 500 different video file types.
Features of Freemake include:
Convert subtitled movies
Transform across 500+ formats.
Rotate, cut, and connect clips
4K resolution assistance
Pros:
Nobody with specialized knowledge is needed.
Cons:
Some features require a three-day wait for new users to access them.
EaseUS Video Editor
EaseUS is a simple and effective video editing tool, perfect for beginners and professionals alike.
It has features that help you make enticing videos to share on digital pages. You can trim MP3s, add effects, and even apply pre-made templates to your videos.
The EaseUS video editor can also be a handy special effects editor, allowing you to quickly add transitions, overlays, and filters to your clips for artistic purposes.
And because the free video editing software supports most audio, video, and image formats, you should have no problem importing and exporting files.
You'll need the premium version of the software to remove the video watermark and access the widest selection of high-quality video services.
Features consist of:
access to a variety of file types, such as MP3 and MP4
incorrect file format conversion
Features for trimming, combining, rotating, bending, and splitting are excellent.
There are numerous overlays, filters, and special effects.
templates that help you create original videos from scratch
Pros:
Ideal for quickly and easily add special effects to your videos.
Cons:
has fewer sophisticated features than other free video editors.
Windows Video Editor
Microsoft provides a built-in editor for Windows called Windows Video Editor. This application is perfect for individuals in need of basic editing features because it is simple and convenient. A variety of practical tools are available to you for cropping, adding text or audio, and trimming information.
This free video editor, which comes standard with Windows 10 and later versions, is simple to learn. You'll be experimenting with basic 3D effects and adding fresh text and audio to your films in a matter of seconds. Features consist of:
auto-previewing to see how your adjustments are affecting the page
Addition of titles, credits, and music via the animation tab
convenient file organization
The use of 3D
configurable auto-movie choices for video clip cuts
Pros:
Effects of animation and auto-movie choices.
Cons:
only for Windows.
What features ought to be included in your laptop for video editing?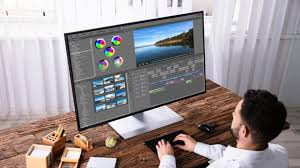 When deciding on the finest laptop for video editing, you must carefully consider the storage, processor, graphics card, and RAM or memory because these features will determine whether your edit will be seamless or not. Let's examine these elements in greater detail:
1. What kind of storage do you require?
As a video editor, you require enough SSD (solid state drive) space on your laptop, even though you have a variety of external storage options for your video files, footage, and output. A quicker and more modern form of a hard drive is an SSD (HDD).
To be able to save proxy files and render files on your device itself, it is advised to have at least 1 TB of capacity on your SSD. This speeds up and greatly improves video editing.
However, if money is an issue, a 512GB SSD may even be plenty in terms of internal storage because external SSD storage is an inexpensive and simple option to improve your laptop's performance.
2. How much RAM do you require?
Random access memory, or RAM, is used by your laptop to store data momentarily. Thus, rather than your SSD or HDD, your RAM is where your modifications are momentarily stored when you launch an application or edit a video (hard disk, internal storage). You will require additional RAM as you work on increasingly memory-demanding tasks.
So you need more RAM while editing a movie, especially a 4K video. When editing 4K, it is advised that you use a laptop with at least 32 to 64 GB of RAM. The most recent RAM setup that you should consider is DDR4, which offers substantially better bandwidth.
3. Which processor need you to employ? (CPU)
your computer Your laptop's CPU is like its beating heart. A computer's or laptop's central processor unit (CPU) has several cores that it uses to handle commands. It will operate more quickly the more cores your system has. A quad-core CPU, for instance, will be quicker and more fluid than a dual-core processor, and so on. In 2022, you can encounter the following processors while purchasing a laptop:
The Intel and Ryzen processors are now the 2 most popular types of processors you can look at. In Windows laptops, the Intel Core i5 or i7 processors are adequate for a variety of creative work.
The MacBook Pro series' i9 processor is always a fantastic choice for those who need to edit video. Additionally, some laptops have a Turbo Boost capability that enables the processor to accelerate as needed (for tasks like gaming or video editing).
There is also the Apple M1 CPU, which enables you to purchase Apple products at a relatively lower cost and is appa efficient than Intel core processors for Mac systems. If you're considering purchasing an Apple laptop, this processor is a great option for video editing.
On the other hand, the AMD Threadripper 3970X currently offers the top performance for video editing. The AMD Ryzen 9 5900X is the greatest option if you're looking for a decent CPU for video editing that costs less than 550 dollars.
For video editing, a laptop with at least 4 cores and at least 8 gigabytes of RAM is advised, regardless of the CPU you use.
What sort of graphics processing unit (GPU) ought you to have?
Integrated graphics and discrete graphics are the two types of graphics cards that come standard on laptops. The CPU of a laptop shares resources like memory and storage with integrated graphics cards.
A "discrete GPU" with its memory is one feature of powerful laptops used for gaming or project/video creation (VRAM, or video random access memory). As a minimum requirement for a laptop for video editing, try to get one with four to eight gigabytes of dedicated VRAM.
The Nvidia graphics card found in a variety of gaming laptops is certainly familiar to you. Additionally, the business produces sophisticated graphics that are pre-installed in several laptops from manufacturers like Asus, Acer, Dell, and Microsoft. The Nvidia GeForce GTX and Nvidia Quadro RTX are two examples. Another GPU found in powerful devices like the MacBook Pro is the AMD Radeon Pro.
The GPU itself is likely the most significant element when it comes to actual laptop graphics card performance. You also need the appropriate amount of memory (VRAM) for your GPU, just as your computer won't perform well if it has a top-notch CPU but very little RAM.
In case you are using a laptop without a dedicated GPU, you can also invest in an eGPU or an external graphics card.
5. What resolution and display should you pick?
The number of pixels in each frame of your video is referred to as resolution for videos. Video editors must take the intended audience into account when editing. Video editors should therefore consider screen quality and display resolution when selecting a laptop.
You need your laptop display to display appropriate colours whether you are creating HD quality films or 4K videos because if it doesn't, your videos may wind up with drastically distorted colours when viewed on other devices. You can choose from a variety of displays and screen resolutions when purchasing a new laptop.
Apple's trademarked Retina display, which boasts a slightly higher resolution than 4K, gets its name from the company's assertion that it renders pixels invisible to the human eye.
A 4K OLED display will do the trick if you're seeking an HD monitor with a visible from all angles display. OLED technology is a cutting-edge approach to displaying brilliant colours and maintaining sharp visuals even when you're standing far away from the panel.
Look for an LED monitor with IPS (in-plane switching) screen technology if you want a more economical alternative to an OLED panel for wider viewing angles. An IPS LCD monitor's liquid crystals can shift horizontally, which improves the colour fidelity of the display when viewed from an angle.
What sort of sound cards and audio drivers ought to be installed on your laptop?
You must purchase a laptop that not only has the necessary audio hardware but also has a sound card or a sound chip with the most recent build, as sound is one of the most crucial aspects of video editing.
On your laptop, audio drivers make it possible to send, receive, and mix audio from numerous interfaces, ensuring that you receive true sound. The Realtek HD Audio drivers are the most common audio drivers you may have encountered. The majority of laptops already have sound cards and drivers installed. When purchasing a new laptop for video editing, it's important to understand the sound card and audio options. If you use audio-related software, you can also purchase an external or separate sound card.
Conclusion best video editing software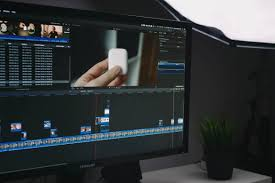 Effective video editing is made possible by a variety of powerful video editing programs. They accommodate a variety of formats and are also simpler to handle. Some are even equipped with image or video formats, making them suitable for all circumstances. The aforementioned ideas should always be kept in mind when selecting the best video editing software. Create great videos right now by using the free video editing software on our list. Boost your ROI and maximize your ad budget by developing product videos and commercials that present your brand in a visually appealing way.
A variety of powerful video editing programs are available to aid in producing effective edited videos. Additionally, they support various formats and are simpler to operate. Some are adaptable to every situation since they include video or image formats. When selecting the best video editing software, keep the aforementioned suggestions in mind at all times. Start making beautiful films right away by using the free video editing programs on our list. By producing product videos and ads that aesthetically appealingly represent your business, you can increase your ROI and make the most of your advertising budget.