What is Cloud Storage?
Data can be stored in cloud storage, which is a location on distant servers that can be accessed from the cloud (or the internet). Users often pay a monthly or per-consumption cost for the remote management, maintenance, and backup of their data.
Massive computer servers housed in data centers are used for cloud storage, which allows users to access data online. Users can remotely upload their stuff, store it, and retrieve it as needed. Since the advent of the cloud, you no longer need to buy servers, external hard drives, or memory sticks to move your data around.
How to Use Cloud Storage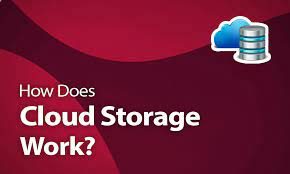 Cloud storage operates with ease and simplicity. In cloud storage, data is kept in data centers around the globe that are managed by a third party. Because the data is on hosted servers, a web interface makes it simple to access.
The master control server and additional storage servers are both included in the chain of servers used by cloud storage. The servers are all connected, so you can use them as needed and get charged for it accordingly. You save a lot of money using cloud storage instead of purchasing more powerful servers as your company's demands grow. However, with cloud storage, you only pay for the amount of space that your data takes up.
A growing number of businesses and individuals are storing their data in the cloud. This market was worth more than $46 billion in 2019, and it's expected to increase over the next few years. How cloud storage works
Cloud storage allows users to access their files from anywhere, making it easier to work remotely. It also enhances disaster recovery capabilities and reduces the need for IT support.
If you're planning to use it for personal reasons, know that your files will be secure and easily accessible. Once you understand how cloud storage works, you'll never go back to USB sticks and external hard drives.
Eager to find out more? Here's what you should know about the cloud and its advantages over other storage mediums!
How Cloud Storage Works
You can quickly upload all of your vital stuff, including documents, videos, photographs, music, movies, and more, to cloud storage systems because it typically supports a wide range of file kinds and sizes. You can sync your cloud storage account with your smartphone, tablet, or other mobile devices for convenient access while traveling when you sign up for the service and upload your data.
The most exciting aspect of cloud storage options is the ability to upload and download files from anywhere in the world without having to carry a laptop. You only need a mobile device with an internet connection and the application for your service professional. Despite its popularity, cloud storage is still a mystery for most people. Where is the data located? And what is the cloud in the first place?
You can also share your content in the cloud with other users or your team members who work for your business. You can grant them permission to remotely edit or view the shared files. Members of your team can cooperate, work on a project together, and edit documents that have been shared with them. Everyone who has access to your files and folders can view the shared documents in their account after accepting your invitation to do so.
Strong passwords are used to safeguard and protect the data saved in cloud storage, making it impossible for anyone else to access the information you share or upload. Additionally, cloud storage provides the capability of recovering unintentionally lost files, folders, or documents. If you have any files stored on Google Drive or Dropbox, you're already using the cloud.
These services, however, only offer limited storage space. Ideally, you want to choose a service like pCloud, which allows you to store large amounts of data securely.
With cloud storage services, your photos and documents are stored are remote servers that can be accessed from anywhere. Think of it as a virtual filing cabinet. The "cloud" encompasses the services and software programs available on the Internet.
Depending on the provider, your data can be stored on servers located in the U.S., Europe, or anywhere else in the world. The best companies will replicate your files on several servers to ensure they're safe in the event of a fire, natural disaster, or data breach.
Simply put, you can stay rest assured that your data won't get lost.
Most providers have server farms in different locations across the world. If one of their servers goes down, your files will still be available on other servers.
Now let's take a closer look at the benefits of cloud storage.
We recommend pCloud!
 pCloudTo is providing the world with a comprehensive easy-to-use cloud storage solution for individuals and businesses alike. Their approach incorporates the technical point-of-view with the end-user in mind. Other cloud services are either too technical and are not user-friendly, or they are not comprehensive enough for users to get everything they want out of cloud storage. Click here!
Costs of Cloud Storage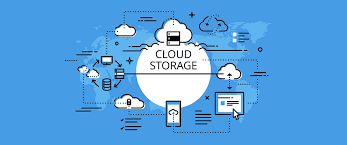 The last drawback of cloud storage service is that it will probably cost you money. The majority of providers do allow free accounts, but you only get a small amount of storage and several features are only available to paying clients. If you're unsure, our examination of some of the top free cloud storage choices should assist you.
To have enough capacity for all of your data, the average user will need to pay. The good news is that rates are rather affordable, so storing your files shouldn't break the bank, especially when compared to the price of purchasing additional physical storage compared to
Pros:
Access files anywhere there is internet
No need for additional hard drives
Recover files in the event of lost data
Files update across devices
Collaboration
Simple sharing
Cons:
Requires an internet connection
Privacy and security concerns
You need to pay for a decent amount of storage space
Cloud Storage Types
Not every user of cloud storage has the same needs or wants. Because of this, many providers provide a variety of cloud storage system types.
Personal
You can access the remote servers of major cloud storage providers, but you can also set up your server at home to build your private cloud storage.
You can set up a local server that only you can access with the help of products like Western Digital My Cloud. There are several causes for you to consider doing this. You may rely on your home network for quicker speeds when streaming media within your home, such as music and movies than you might obtain while streaming from a server over the internet.
Additionally, it implies that you don't have to worry about your cloud storage provider looking through and scanning your media files if they come from questionable sources.
Private
Personal cloud storage for organizations organization is essentially what private cloud storage is. An organization does this by putting in place its internal storage servers. Through the cloud, much like a company Dropbox, employees can access those servers.
There are several reasons why a company could decide to create their private cloud storage, but one of the most crucial ones is that some companies are compelled by law to store customer data locally.
  Fusion Storage
You've just discovered hybrid cloud storage, a fresh way to save information online. It combines the speed and security of private cloud storage with the usability and flexibility of public cloud storage.
You can combine your local storage server with a public cloud storage provider using hybrid cloud storage. This gives you the option to decide which files you want to save remotely on the cloud and which data you want to store locally.
5 Benefits of Cloud Storage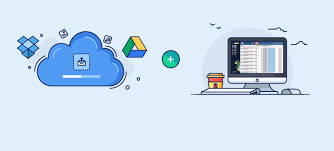 Technology has advanced to the point that cloud storage is now a viable option for managing and maintaining our stuff. Anyone can securely save their data online without worrying about space for a small monthly cost. The cloud makes it simple to upload and download files. Additionally, you and anybody you approve can access them because they are secure and protected. Using a computer or mobile device, anybody anywhere can access the files at any time. The use of cloud storage is extremely widespread. That's because they provide a variety of advantages that more than justify the price.
1. Keep Your Data Secure
You can access your files using cloud storage from any location with an internet connection. The major advantage of these storage services is that you can access your data from anywhere you can get a signal, even in the middle of a desert.
The issue of running out of disc space on your computer or mobile device is also resolved by cloud storage. It's all too simple to fill up your lightning-fast solid-state drive because video files, programs, and even operating systems are getting more and bigger. Cloud storage allows moving files from your hard drive to the cloud to aid with this issue. Cloud storage is more secure than external drives, USB sticks, and other storage media.
If, say, you lose or damage a USB drive, you might not be able to recover your files.
Just imagine sitting at your desk and spilling your coffee over the USB stick! Even if you find someone who can recover your documents, expect to pay a hefty price for their services.
A cloud platform like pCloud will store your files in highly secured data centers. Since this service is based in Switzerland, you'll have peace of mind knowing that your data is confidential.
Cloud providers offer automated backups and add extra layers of security to their servers. That's not the case with physical devices, like a USB drive.
2. Work From Anywhere
Over 80% of U.S. businesses are now offering flex work. Depending on the company, employees can work from home or remote locations, such as business lounges, instead of being stuck to a desk.
These positive changes are largely due to cloud technology. Thanks to the cloud, you can access and share business reports and other files from anywhere in the world.
Furthermore, users can access their data on multiple devices, including their laptops, smartphones, and tablets.
If, say, you're working on a larger project, you can invite your colleagues or clients to view your data, leave notes, and provide feedback.
3. Reduce Your Business Expenses
Cloud storage is a viable option for companies of all sizes, from startups to corporations. It's not just easily accessible but cost-effective too.
As a business owner, you may use cloud storage to outsource work or reduce overhead expenses by allowing your staff to work remotely. All you need to do is to choose a cloud provider, sign up for an account, and invite others to view your files.
This service will also reduce your travel costs.
With cloud storage, you no longer have to travel to another state or country to discuss a project with your clients or business partners. You can simply give them access to the project documentation and go into details over email or by phone.
Cloud storage also eliminates the need for internal resources. Since everything is stored on virtual servers, businesses don't have to invest in new IT infrastructure. This fact alone results in massive savings.
4. Seamless Disaster Recovery
The number of security breaches increased by 67% between 2014 and 2019. Cybersecurity specialists estimate that hackers attack every 39 seconds. Unfortunately, no one is immune to these risks.
Natural and man-made disasters can be just as damaging. Imagine having your personal or business documents lost in a fire! Not to mention that you could lose customer data and end up paying hefty fines.
Cloud storage can mitigate these risks and make it easier to recover from a disaster. Any company, big or small, can use it as a data backup solution.
5. Accessibility And Convenience
Whether you're moving house or opening new offices, it takes time and money to transfer physical and virtual data to your new location.
Cloud storage makes everything a lot easier.
Once you have your data stored in the cloud, you can access it within seconds. This means you won't have to worry about losing or damaging your folders, photo albums, or legal papers.
Explore The Benefits Of Cloud Storage
Now that you know how cloud storage works and why it's so great, go ahead and make the switch! Compare multiple storage plans, research the providers, and choose the best fit.
You never know what could wrong with your laptop or USB drive. Don't take unnecessary risks. With cloud storage, you'll have 24/7 access to your files.
Not sure where to start? Check out the Buyer's Guide for more information on cloud storage, business laptops, and computer accessories!
 PCloud is providing the world with a comprehensive easy-to-use cloud storage solution for individuals and businesses alike. Their approach incorporates the technical point-of-view with the end-user in mind. Other cloud services are either too technical and are not user-friendly, or they are not comprehensive enough for users to get everything they want out of cloud storage. Click here!
FAQS on How Cloud Storage Works
How does cloud storage work?
Cloud storage works by using at least one data server connected to the Internet. When a user sends files over the Internet to the data server, the cloud storage saves a copy. When the user wants to retrieve this information, they access the data server through a web-based interface. The server either sends the files back to the user or allows them to access the files directly on the server.
What are the advantages of cloud storage?
Cloud storage has many advantages. It allows you to access your data from any location and doesn't require you to carry around an external hard drive to access your information. You also have a backup of your information and files in case something happens to the versions stored on the computer.
What are some examples of cloud storage?
Some common examples of cloud storage are Google Drive and web email providers like Gmail, Hotmail, and Yahoo.
What is cloud storage FOR?
Cloud storage refers to saving data to an off-site storage system that is usually maintained by a third party. It allows you to store data in a remote database. The Internet connection between your computer and the database enables you to send or retrieve data files. Common examples include Google Drive and Dropbox.
Conclusion
Data is an essential part of every organization. In our daily work, we all deal with gigabytes or terabytes of data. Additionally, if your computer has a lot of files on it, it will probably become slow and function poorly. Even though there are many external storage options available, these storage devices are not foolproof. Due to any. Even though accidents, in accidents breakage, theft, damage, and many more, you could lose your crucial data.
Nothing is worse than losing your data or having that anxiety. This is where cloud storage comes into play with its intriguing features and fantastic capabilities, which you may acquire remotely when relaxing at home or working on your PC, or while roaming outside with your smartphone or tablet.
Data may be stored and retrieved easily and reliably using cloud storage. The market offers a wide variety of cloud storage options.
With any luck, this article has helped you gain a better knowledge of how cloud storage functions as well as provided you with a list of services you can test out for little to no expense.
Due to its simplicity, affordability, and general convenience, cloud storage has become incredibly popular. It keeps your files and folders safe from data loss while enabling you to access them anytime you want, from wherever you want. Additionally, you're utilizing less disc space, which leaves more capacity for things like videos and games.
Keep visiting LaptopsChamp to learn useful tips and tricks about laptops and other tech gadgets.