The projector screen is used for so many purposes. A digital light-processing projector screen is the need of the hour in the corporate sector. These days the projector can be categorized as a business projector, a portable projector, and a laser projector.
Projectors are divided into different types of their technology; there are three types of projectors. The three well-known types of projectors that users will find on the market are:
DLP projector

LCD projector

LED projector
We present these three types below.
The DLP projector
The DLP projectors are one of the types of projectors such as video projectors or led projectors. The abbreviation DLP stands for "Digital Light Processing". The DLP projector consists of a color wheel and a chip that contains numerous tiny mirrors. The devices can display lower contrasts than LCD projectors. Further advantages of a DLP projector: They are very bright and have very good response times. Compared to LCD projectors, DLP projectors are less sensitive to dust and do not have to be serviced as often. It uses blue Dlp chips similar to a short throw projector. It uses the DLP chip and as the chips are used it simple pico projector.
The disadvantages: DLP projectors are more expensive and often louder than LCD devices during operation. Their color fastness is lower. When watching movies with the best projectors, a rainbow effect can occur in some cases. The primary colors flash within the video, especially in scenes that are very high in contrast. Not many people perceive this effect and not all of them find it disturbing.
Here is a complete guide about the DLP projector: A real 1080p experience is provided by the "Hollywood Cinema" picture quality created by millions of tiny mirrors. The DLP chip reduces pixel gaps, resulting in a seamless image. In comparison to LCoS and 3LCD technologies, the DLP chip operates quite differently. Since a DLP chip only has two states—basically on and off—it is digital. In essence, there are a million or more mirrors (approximately two at 1080p, which is 1920 x 1080), where light is reflected off each mirror and eventually exits the lens or the mirror is at a different angle and there is no light. Regardless of how the chip functions, DLP projectors have several inclinations as a result of the chip. Compared to LCD projectors, the pixel structure is much less evident.
Projectors equipped with one of TI's two newest semiconductors, both of which claim 4K UHD quality, are currently all the rage. It isn't a "real" 4K with 3840 by 2160 pixels that don't overlap; instead, it is either 2716 by 1528 x 2 or 1920 by 1080 x 4. The final figure represents the number of times each pixel fires, partially overlapping adjacent pixels, resulting in a total of 8 million pixels hitting the screen in both scenarios. However, the larger the pixels and lower the native resolution make it harder is to match the sharpness of a true 4K projector. That's reasonable given that, as of early 2018, 4K UHD projectors can cost as little as $1499, and commercial true 4K projectors start at roughly $15,000.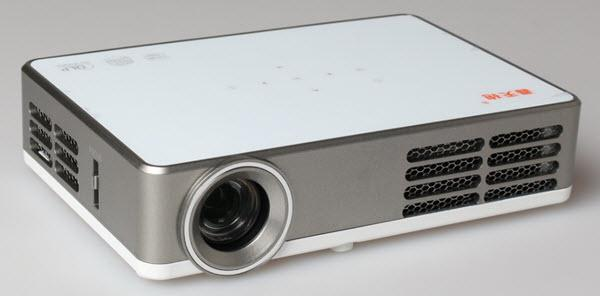 The LCD projector
LCD stands for "Liquid Crystal Display". The lamp of an LCD projector produces light that is split into the colors green, blue, and red by a dichroic mirror. The light is then brought together again in a prism by three LC displays (red, green, and blue). In it, the images from the different shades of color are superimposed and projected onto the wall as a color image. Today, LCD projectors are also called 3LCD projectors to indicate the three LCDs in different colors in the projector on the projection screen. The light or dark pixel can be created by an LCD projector, An LCD projector creates images while using liquid crystal display technology. Laser projectors have LCD panels. An LCD panel uses LCD technology with a colored light beam,
Most LCD projectors are smaller than DLP projectors, have a lower weight, cost less, and have a higher colorfastness. In addition, the devices sharply delimit the pixels from one another. In this way, users can easily recognize and read graphics or text. Three LCD panels are used for light output,
The disadvantage is that a so-called fly screen effect occurs with some LCD projectors. The individual pixels can be seen in the images just like a lcos projector which incorporates ultra short throw. The effect occurs only rarely today and especially in models in the lower price range with a low resolution. Another disadvantage is the LCD memory effect. The image is burned in when a user leaves the projector for a very long time on an image. This can cause ghosting. Screen savers, which keep the picture constantly moving, can help against this. LCD projectors offer lower black levels and are more susceptible to dust and are more expensive to maintain.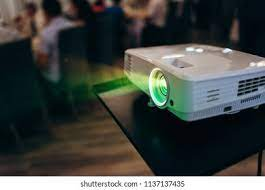 The LED projector
With an LED projector, the image projection is technically the same as with a DLP or LCD projector. The devices are equipped with LED projectors instead of a UHP lamp which means it is devoid of lamp life. This makes them more environmentally friendly, lasts longer, and uses less energy. In addition, less heat is generated when using an LED projector. The rule of thumb is: that LED video projectors are usually quieter. Other advantages: They are lighter and more compact. Most LED projectors are weaker and have a lower luminosity than DLP or LCD projectors with UHP lamps and have a lower contrast ratio and a smaller projection area. It is one of the high-resolution laser projectors with projection technology similar to short-throw projectors,
There are also other display technologies, such as LCoS. This is the abbreviation for "Liquid Crystal on Silicon". This refers to a technology that has special panels to create images in projectors. They are similar to LC displays, but they work as reflective. Projectors with LCoS have a sharp image and high contrast. However, the image quality deteriorates over time. In addition, dragging occurs here, so that the dragging effects are also one of the disadvantages. The best-known LCoS variant is SXRD from Sony.
It is similar to a portable projector type which uses a cathode ray tube. It is the best projector that uses microscopic mirrors using only particular wavelengths to generate sequential colors on a very large screen. Projectors serve multiple purposes when one rightly uses the command and control centers. The light source emits the source light falling on the screen to achieve those objectives.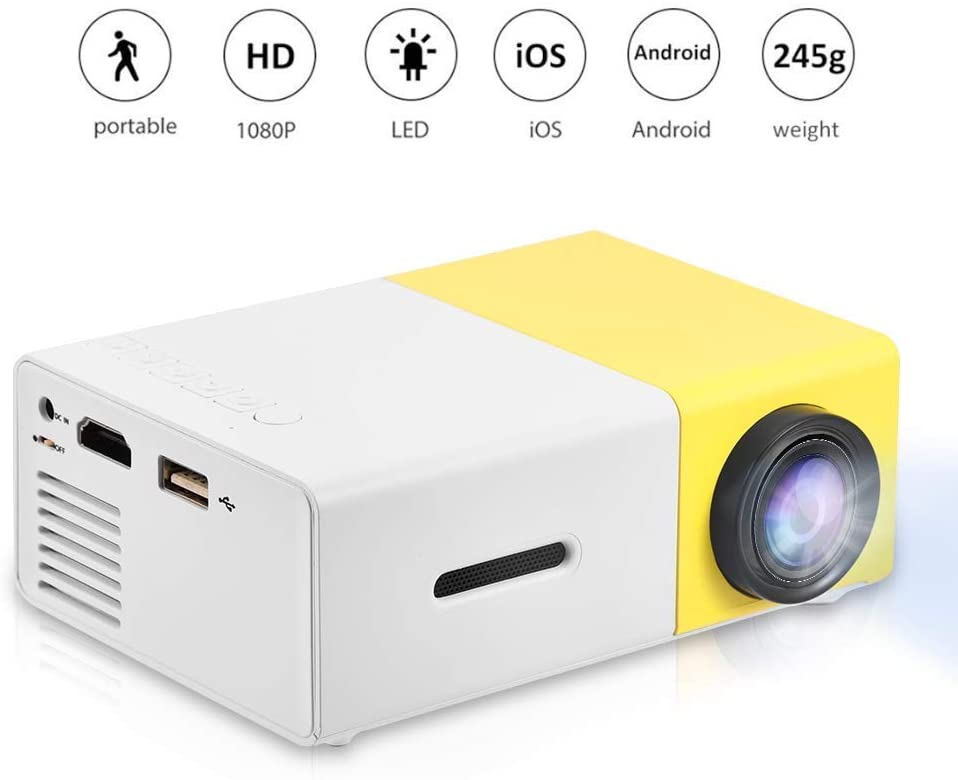 Which projector is suitable for which purpose?
If you want to buy a projector, you should ideally orientate yourself towards the intended use. In the following paragraphs we show three common areas of application for projectors and explain which device is suitable for the respective purpose:
Gaming
DLP projectors are suitable for gaming. A good gaming projector should have a resolution of at least 1,920 × 1,080 pixels (Full HD), a brightness of at least 2,000 ANSI lumens, and a contrast of at least 10,000: 1. In addition, these models have a short response time and are equipped with multiple HDMI connections or a display port connection. Wireless functions such as WLAN or Bluetooth are not necessary. When gaming, interference-free data transmission via a cable is more important.
Home cinema experience 
If you are looking for a projector for your home cinema system, you should look for a model with a high contrast ratio of at least 10,000: 1 and a resolution in Full HD. The projector should be as quiet as possible and have at least one HDMI connection. The projector should be equipped with an intermediate image calculation and a lens shift function or automatic keystone correction. If you like to treat yourself to a movie in 3, you should look around for a 3D-capable device.
Presentations
Projectors that are suitable for presentations have a resolution of at least 1,280 × 800 pixels and a contrast of around 3,000: 1. More important than the resolution and the contrast are the connections and the brightness of a presentation projector. A good business projector is equipped with as many connections as possible and, if necessary, with an SD card slot. The brightness should be at least 3,000 ANSI lumens. If you have to transport the projector often, you should pay attention to its low weight and compact dimensions.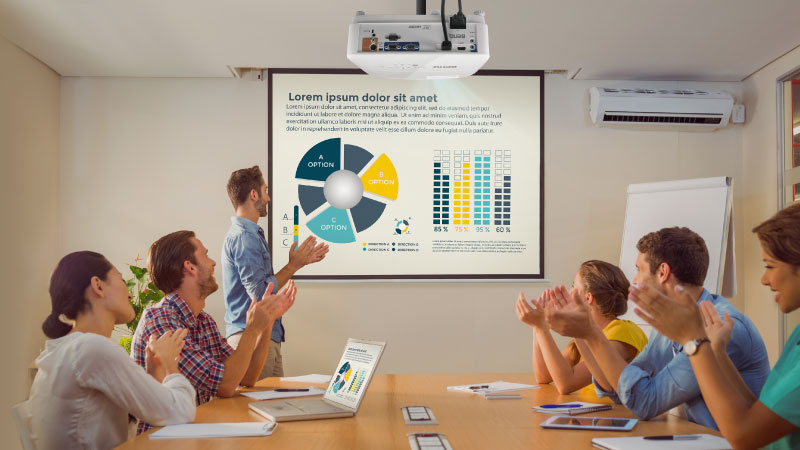 Conclusion
There are portable projectors, CRT projectors or pico projectors, overhead projectors, lcos projectors, digital projectors, classroom projectors, digital projectors, film projectors, pocket projectors, movie projectors, and other projectors to reflect light using liquid crystal displays. The color wheel rotates and the three liquid crystal displays create colored pixels using a light source to create colored images. A film projector serves as one of the home theatre projectors with a physical color wheel and ambient light. The three basic colors red green and blue serve as the light source.