VPN For Laptop – Best Choices To Make 
Now that it's clear that using a is imperative and a free laptop Windows 7 is not a wise choice to make, it's time to find out some viable options.
Here are some expert choices.
1. ExpressVPN 
Compatible with all the leading Windows versions and other laptops' OS, ExpressVPN is the best VPN for laptops. Its server network is spread across the world, with more than 3,000 servers. Laptop users having an affinity for streaming will be glad for ExpressVPN as it comes with MediaStreamer technology.
Other qualities that make it the best VPN for laptop Windows 10 are as quoted below.
No bandwidth limitations
Highly user-friendly browser extensions for leading browsers
Dedicated apps for Windows, macOS, and Linux
Money-back guarantee and free trial
Simultaneous support for 5 connections at a time
Amazing P2P activity support.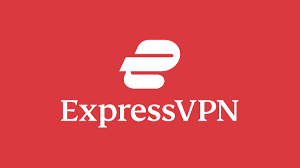 2. NordVPN 
Enjoy support for all the leading OS and dedicated apps for Windows and Linux with NordVPN. Being one of the best options in the market, it promises military-grade encryption, multiple protocols, an in-built kill switch, and protection against all leaks. It certainly upkeeps all of its promises. Some of its distinct qualities are quoted next.
Dedicated IP addresses
Streaming-optimized servers
No-log policy
Multi-hop servers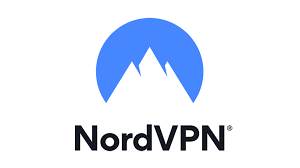 3. SurfShark
One of the most alluring VPNs for PCs right now, both in terms of quality and pricing, is Surfshark. In contrast to the two providers mentioned above, you can sign up for service from one for an effective monthly cost of less than $2.50 (when you sign up for a two-year subscription) and still get access to the same level of encryption, a wide range of geo-restricted streaming content, and use across as many online devices as you (and your family) can handle. It helps to establish a secure connection and it is a risk-free VPN.
Surfshark doesn't undersell you in terms of what you get inside the box. There are several options, including split tunneling, a kill switch, multi-hop servers, and even disguised servers. Additionally, the new Nexus function is still under construction. For now, all you'll receive is an IP rotator, but we've been assured that more is on the way.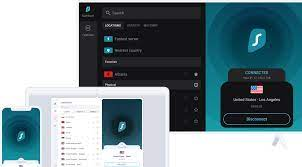 4. CyberGhost 
People expecting the best ROI and peace of money at the investment part must place their bet on CyberGhost as it comes with a free trial for a longer duration and a money-back guarantee for 45 days. It's Windows app is user-friendly and super sleek. We bring the best of its qualities next.
Built-in dedicated profiles
256-bit encryption and an automatic kill switch
copy server
The Windows software for CyberGhost is quite simple to use, especially if you want a VPN to unblock streaming websites. The servers are well-organized, making it simple to locate a specialized server based on the platform you wish to use and the nation. When I connected to its Hulu-optimized server (located in the US) throughout my tests, I received immediate access. It worked for Netflix, BBC iPlayer, and Disney+, among other well-known streaming services. In addition, I had no slowdowns or network problems.
It has impressive speeds that give you a smooth streaming experience, too. To see how fast it is, I tested its Berkshire, Bucharest, and Miami locations on my Windows PC, and the average speeds never dropped below 40 Mbps. You only need 5 Mbps for HD streaming and 25 Mbps for 4K streaming, so I was able to watch Don't Look Up on Netflix US in full HD with zero lag.
5. Private internet access
On all of your Windows devices, PIA provides robust security safeguards to protect your online privacy. If the VPN connection is lost, an automatic kill switch prevents all of your internet activity, and AES 256-bit encryption safeguards your data against hackers. Additionally, it passed all of my leak tests, allowing you to browse without fear of unintended data breaches.
An extensive server network of Private Internet Access makes it possible for you to access geo-restricted material. In my experiments, I was successful in unblocking several streaming services on my Windows 10 computer, including Disney+, BBC iPlayer, and six Netflix libraries. With their respective US West Streaming Optimized and UK London Streaming Optimized servers, each of these websites loaded successfully on the first try. Hulu first refused to function, but after switching to their US East Streaming Optimized server, I was able to view it.
On your Windows device, the speeds of Private Internet Access are quick enough for gaming, streaming, and torrenting. I experimented in 9 sites, including 6 in the US, 2 in the UK, and 1 in Canada. The typical speed was around 33 Mbps. I was still able to download a 3GB torrent file in about 12 minutes, however, it's not as quick as ExpressVPN.

6. IPVanish VPN
Unlimited simultaneous device connections are available with IPVanish. I used the same Los Angeles server to do my testing on my Windows laptop, Android phone, and tablet. Within seven seconds, the link was established on each device. Then, as Overwatch downloaded on my Windows laptop, I watched YouTube videos on my Android device. Even though I had several devices connected, I didn't notice any sluggish downloads or visual stuttering. If you wish to share a VPN with a large household, this is a terrific tool.
You can stream, browse, and torrent without experiencing bothersome lag times because of its fast speeds. The average download speed I experienced when I tested its servers in Atlanta, Amsterdam, and Mumbai was 28 Mbps, which is quick enough for HD and even 4K streaming. The unblocking skills are also excellent. While I was unable to get it to unblock Amazon Prime Video, I was still able to access Netflix and Disney+ on my Windows computer.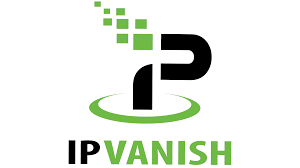 Other Options
All the above are paid options. If you want an option for which you don't have to spend a dime, which we don't highly recommend, then here are some consider-worthy suggestions. However, we take no guarantee for their viability and utility.
#1- Hide.me 
Hide. It is the best free VPN laptop for Windows 7, 8, and 10 and works great with Linux and macOS as well. It's not 100% free but a free version of a premium VPN. With the free version, you will get 2GB per month and access to 5 servers only.
#2- HideMyAss 
This is a free VPN for laptops with streaming and P2P support facilities: 980+ VPN servers and data encryption.
#3 – UltraVPN 
Lastly, we have UltraVPN as the best free VPN for laptops with Windows 10. It provides safe and secure internet access at zero cost. Streaming abilities are also fine. However, its doubtful privacy policy can't be trusted.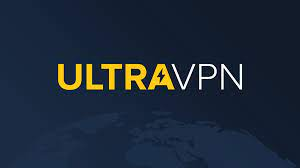 Private VPN
To get around strong firewalls and internet restrictions, use PrivateVPN's Stealth Mode. It was created to function in nations like China that use extensive web censorship. Stealth Mode works well to get through firewalls installed on public networks like those at work, school, or other places since it conceals the fact that you're using a VPN. I tested it using the WiFi at my local library, which prevents me from accessing pirate websites. The torrenting website loaded without any issues on my Windows laptop once I turned on this function.
There are two interface settings in its straightforward, user-friendly Windows app: Simple and Advanced. The VPN will select the appropriate security protocol for you in the Simple View, and you can connect to a server with a single click. You may adjust more settings in the Advanced View, including changing protocols, activating the kill switch, entering stealth mode, and more.
On your Windows device, its world-class security measures ensure safe and secure online sessions. The Windows application features AES 256-bit encryption and an automatic kill switch. Additionally, it has strong leak protection; during my tests on ipleak.net, I discovered no leaks.
The speeds are quick enough for torrenting and HD streaming. In my tests, the Manchester, Phoenix, and Japan servers' average download rates were 24 Mbps. While there was significant slowness while streaming in 4K, there were no problems when watching Netflix episodes in HD. Additionally, I can quickly download large files on my Windows 10 PC thanks to its dedicated IP/torrenting servers.
Being safe is the biggest challenge in a time when a cyber-attack is taking place every 39 seconds. Hackers don't bother about the type of device they use. They can fool your VPN for your Laptop and steal crucial data whether you use a mobile phone or laptop.
The laptop is one of the most widely used devices and is the first choice for hackers as they can get access to a broader data pool by hacking a laptop. As hackers have become smart and attacks are more damaging these days, mere anti-virus protection isn't enough to safeguard your laptop. You must bring the assistance and high-end security of a VPN for laptop.
Do you consider it a luxury? Well, as you'll reach the end of the article, your notion will be changed, and you'll start looking for the best VPN for a laptop.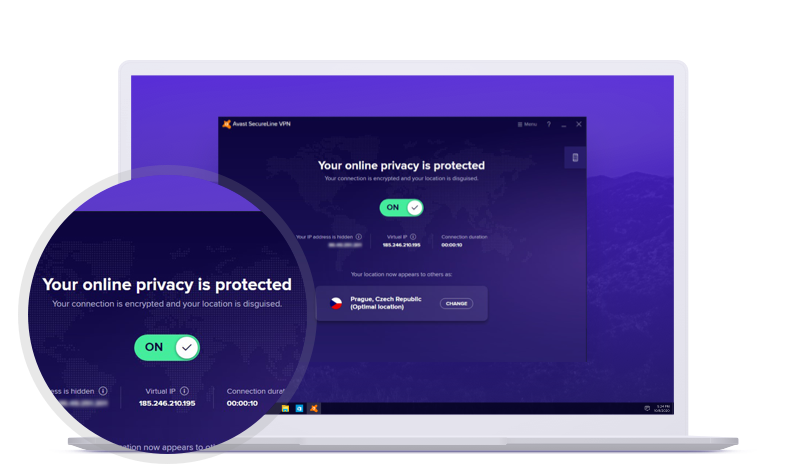 Threat Defense
Enable our Threat Protection tool to defend your Windows PC against common online risks, including automated malware scanning of new downloads, blocking off harmful URLs, halting adverts, avoiding botnet control, and removing web trackers.
Splitting a tunnel
Select only certain portions of your online traffic to be encrypted while keeping others unprotected. Choose the particular applications, programs, or URLs you want to protect. The ideal desktop VPN for Windows 11, 10, 8, or 7 is this one.
Cover Up Your Information
The ability to disguise your private information is another of VPN's main advantages. Hackers can intercept sensitive information you enter on websites using several techniques. They could attempt to impersonate you and use that information to access bank accounts, credit card numbers, and other things by pretending to be you. However, you can benefit from strong security with a VPN, like 256-bit encryption. This makes all of your internet communications appear to anyone who manages to intercept them as meaningless, jumbled text and characters.
Refrain from Data Throttling
When you have used a certain amount of the data you have available, your internet service provider (ISP) may decide to throttle your connection. Being able to evade a data cap is one of the advantages of having a VPN, especially since neither your ISP nor anyone else can see how much data you are using. This might be especially beneficial for workers who must utilize data plans on their mobile devices to access the internet while traveling.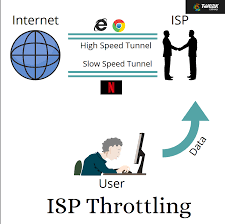 Refrain from bandwidth throttling
When your ISP or any party with the ability to influence how your Wi-Fi network operates deliberately slows down your internet connection, this is known as bandwidth throttling. This can happen occasionally when you visit particular websites or carry out specific online activities. The mobile traffic leaving your device can be encrypted if you utilize a digital VPN service. The websites you are browsing cannot be seen by others thanks to encryption.
Your ISP cannot reduce your bandwidth in these circumstances if they cannot see the data traveling to and from your device since bandwidth throttling might occasionally be caused by the websites you visit or the type of activities you engage in.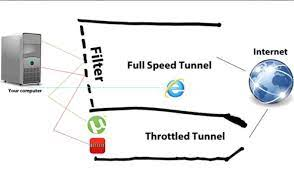 Network Scalability
A private network might help your firm get off the ground, but it can be expensive to grow the network. You can grant access to numerous employees and distant workers at once if you use a VPN server. Additionally, you can operate crucial programs in a cloud environment and grant them access via the VPN's secure tunnel.
This can range from email to fully-featured programs that you would typically use on a desktop computer. Employees can access a different computer that you use to run the program they require when they connect to the VPN. With a login, every employee has access to the VPN and subsequently the application.
Save money on support
You can cut costs on support services significantly by using a VPN solution that uses cloud computing architecture. For instance, in an on-site setup, internal IT professionals are normally responsible for the operation and maintenance of the internal server. This could take hours of checking to see how well the server is operating, whether every employee is getting the best throughput, and whether malware or hackers are attempting to attack it.
Risk of Using VPN for Windows
Using a VPN Won't Make You Anonymous
Your VPN service has little control over how your browsing habits can still betray your genuine identity. A VPN won't be able to prevent Google or Facebook from watching your online behavior if you have those accounts open. Additionally, there are several methods that marketers employ to follow you online. These consist of:
Cookies and web trackers are used by websites to customize their services to your unique demands. They can be used to identify you despite a VPN connection because they store information about you, including your name and location.
Browser fingerprinting: The majority of browsers provide tidbits of information that are specific to you and your experience. Even if you're using a VPN, authorities, and advertising can compile this data to create a "fingerprint" that identifies your online presence.
Your VPN Service Affects Your Privacy
One of the main benefits of using a VPN is to prevent prying eyes from watching what you do online. You don't want strangers seeing you online any more than you would want them to observe you from your window. You are still giving your surfing activity to your VPN service even though you are using a VPN to protect yourself.
Your entire traffic is directed through the servers of the VPN provider. It could look you up and see what you do online if it wanted to. Because of this, it's essential to review the VPN's logging policy before utilizing it. Your level of privacy depends only on how reliable the VPN service is.
In several nations, using a VPN is prohibited
The majority of the world's nations allow VPN programs, but there are still a few places where doing so is prohibited or illegal.
The following nations prohibit or control the use of VPNs:
Belarus
China \sIran
Iraq
Korea, North
Oman
Russia
Turkey
Turkmenistan
Emirate of the Arabs
Therefore, merely using a VPN could constitute breaching the law, and if you are discovered you could face legal action. For instance, using a VPN service in China without the government's express approval can result in a punishment of up to 15,000 yuan, or around $2,300.
Using a VPN Reduces the Speed of Your Connection
Your connection speed will almost always decrease while using a VPN service. This is because once the VPN is enabled, your connection begins to travel a longer path to the internet via the VPN server of your choice.
You won't even feel any speed decrease while using high-quality VPNs because it is so slight. For instance, Hotspot Shield only causes a 0.41 percent speed loss.
However, low-quality VPNs can cause unusable levels of latency and download speed sluggishness. If your internet connection is already sluggish or if you're engaging in a speed-demanding activity like streaming, gaming, or torrenting, this could be a serious problem.
Top 3 Dangers That Your Laptop Faces
If left unattended for a while, a laptop featuring poor password health can allow anyone having malicious intentions to access the stored information. This happens all the time. If data is to be believed, each computer is attacked 2,244 times a day.
Corrupt Data or Applications
If one accesses a corrupted website on the best laptop, a deadly malware or virus can be installed on the laptop and harm the stored data. Laptops used for professional uses might face huge losses due to this.
At times, we use a Wi-Fi connection for our laptop, and if the connection is, ensure that your data can be exposed to everyone.
This is just the tip of the iceberg. Your laptop bears way more dangers than this, depending upon the use, data stored, and type of attack that happened.
Wonders Done By Best VPN For Laptop
Laptop VPN has become a necessity as this one tool can safeguard you on multiple fronts.
The extra encryption layer that the best VPN for a laptop adds to your laptop will keep all sorts of online dangers at bay VPN for my laptop.
VPN allows end-users to control access control and keep the data out of harm's way.
While one connects to the internet, VPN hides the actual IP address and keeps the online presence completely hidden.
Should You Get A Free VPN For Laptop?
Honestly speaking, there is no good VPN for free laptops.
Using no VPN for a laptop is far better than using a VPN for a laptop-free download for a laptop as such VPNs are hosts of multiple unforeseen dangers.
Hackers are present on such VPN websites in abundance and leave no scope to attack you.
Free VPNs for laptops hardly work and only consume time and resources.
If you finally get hold of an excellent free VPN for a laptop, there will be a data cap, limited device support, and ample ads to annoy you.
Over To You Now
As a responsible laptop user, you must protect it and save data from the malicious intention of threat actors. By bringing the best VPN for laptops into action, you can trim down the burden on your shoulders while enjoying the best protection.
Starting from empowering the security firewall to making your laptop unblock every restricted content without being prey to anyone, a powerful VPN for a laptop-like ExpressVPN and NordVPN can make everything possible. Instead of going ahead with a risky free VPN for Windows 10 laptops, this tool deserves a try.
 Conclusion
The article talked about windows VPN which checks the security protocols. Different VPN software protects Windows devices. VPN app requires an internet connection to work but some VPN software does not require unlimited bandwidth. Unlimited simultaneous connections are not always needed; certain free VPNs do not rely upon connection speeds or internet traffic to provide the required security features or to act as a malware blocker. If you need any further help with free VPNs for windows or built-in VPNs then feel free to contact us.