How to stream Netflix from laptop to TV?
If you don't own a Smart TV, don't be somber. You can still stream Netflix from your laptop to the TV. The only thing you'll need is an HDMI cable that you can buy from anywhere. Here's how you do it:
Buy an HDMI cable
Turn on and connect your laptop and TV with the HDMI cable
Make sure you select the right channel on your TV. Either HDMI 1,2 or 3.
It could take a moment before the screen shows up.
Press the Windows key + P or go to your settings > system >display and mirror or duplicate your screen to show up on the TV.
On an Apple device press Command + F1.
If that doesn't work, go to your menu, which you find in the upper left corner.
Click > displays > mirror displays
Now your screen will be mirrored from your laptop to the tv. Your laptop needs to stay on to keep mirroring the screen
If you don't want to keep your laptop on, you can buy a smart tv. Which will make an HDMI cable unnecessary. You can find a smart tv for a pretty good price these days.
Netflix has so many great TV shows and movies that it seems like every time you hear about something new to watch, it's already available on Netflix. Our lives have been revolutionized by streaming services, which allow us to watch television series and movies whenever it suits us. At the moment, Netflix reigns supreme among these services.
It not only hosts thousands of excellent movies and TV shows from around the globe, but it also produces its own. Frequently, you can only see them on the platform; they are not available elsewhere.
Only Netflix offers hits like Stranger Things, Bridgerton, Squid Game, Tiger King, and many others.
Here is our helpful information on how to use Netflix, how much it costs, and other helpful hints.
Since Netflix doesn't offer a streaming service or any magic tool, you might have to buy a streaming device. These can be ranging anywhere from really cheap to pretty expensive, depending on what you need.
Can you stream Netflix from laptop to TV? Let's get right to it. Streaming Netflix from a laptop or phone is cool but the screens are a lot smaller than your TV screen.
However, there is a way to stream Netflix directly to your TV. That way you can watch Netflix and also be on your phone at the same time. Or just watch Netflix without getting distracted.
Modern televisions are only getting bigger and better. That's why you probably want to watch your favorite Netflix series and movies of better quality. I mean that's why you bought the television, right?
Anyways you can find every device explained with a step-by-step plan to connect it to your TV.
Since Netflix doesn't offer a streaming service or any magic tool, you might have to buy a streaming device. These can be ranging anywhere from really cheap to pretty expensive, depending on what you need.
From Apple TV to Roke Stick and Chromecast, we'll be covering all three of them.
All you'll have to worry about after reading this article is getting the right snacks.
Yes, you can stream Netflix from laptop to TV, and their different options to do this, depending on the devices you want to connect.
No smart tv? No problem you can connect your laptop to the tv with a simple HDMI cable you might be able to find somewhere.
Both Apple and Android devices can connect to your TV to stream Netflix.
For Apple devices, you'll need to connect with a smart tv or Apple TV. With a Smart TV, you can directly stream Netflix without any cables.
You can also use a Chromecast or Apple TV device to stream content from your phone or laptop to the tv.
We will discuss all scenarios and outline each scenario step by step.
There're a lot of different streaming devices in the market to stream Netflix from your laptop a TV. We've chosen the best ones and made a step-by-step plan on how to install these devices so you can watch Netflix from your couch.
Don't worry about the costs of these devices. The experience of convenience makes up for the one-time cost.
This guide is for all devices, from Apple to Microsoft and Android.
At the bottom of the page, we'll sum up all the arguments so that you can decide for yourself which device(s) suits you best.
How much does Netflix cost and what is it?
There are thousands of TV series and movies accessible on Netflix, an online streaming service. A wide range of devices, including TVs, tablets, phones, gaming consoles, and set-top boxes, receive them via internet streaming. On a computer, you can also watch Netflix movies or shows.
It is a monthly subscription service with a single cost. Depending on the membership level you choose, you can stream Netflix to several devices simultaneously. Depending on your membership, you can choose to watch videos in normal, high, or 4K Ultra HD resolution.
How to use Netflix on a television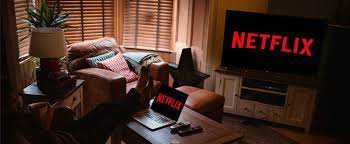 It is extremely possible that the Netflix app will be available on your smart TV's specific app store if you own one from Hisense, LG, Samsung, Sony, Panasonic, Philips, Sharp, Toshiba, or Vestel, among other recent brands.
You will require a subscription, but the app will be free to download and install on your connected TV. If you've never used Netflix before, you do get a 30-day free trial.
After downloading and installing the application, you may sign in using your account information and start using it right away.
Stream Netflix from Macbook or iPhone TV
It's not that hard. I'll guide you right through these easy steps that even a 5-year-old could understand.
Connect your Apple device (either Macbook, Ipad, or iPhone) with the same Wifi network as your smart TV or Apple TV.
Open the Netflix application on your phone or laptop and TV.
Swipe up from the bottom of your screen and select the Cast pictogram.
Select the TV that you want it to stream from.
Now just kick your feet up, lay back, grab a bag of chips and watch your favorite Netflix movie or show.
If you have a problem connecting your Apple device, always check if you're logged into your Netflix account on the TV you're trying to stream.
This step only works if your TV supports this option. If not, you'll have to use an HDMI cable to connect your devices and stream Netflix.
Also, check if you're selecting the right HDMI channel on your TV. If your TV screen doesn't show anything, you probably have the wrong channel.
Try one HDMI channel, then wait if anything shows up on your TV or not. If yes, don't change anything, and remember the HDMI channel, so you don't have to search for it next time.
How to stream Netflix from Apple Macbook to TV without Apple TV?
Without Apple TV, you have two options: either with a connector or a smart TV.
If you're already using a lot of Apple products, you might not mind investing in an Apple TV. But for the same amount, you might as well add a few hundred and buy a decent smart tv. Nonetheless, here are the steps you have to take:
Buy a Thunderbolt to HDMI adapter if your Macbook doesn't support this.
Press Command + F1 to mirror displays or go to settings > displays > mirror displays.
Don't forget to select the right HDMI channel.
How to stream Netflix from an Android device to TV?
It's pretty much the same with an Apple device. Here are the steps to follow:
Connect your Android device (phone, laptop, or tablet) to the same Wifi network as your TV.
Open the Netflix app and find the Cast icon or go to settings > display > cast > select your TV.
Now you should be able to see your screen mirrored onto the tv screen.
How to stream Netflix from Chromecast to a TV?
You can buy a Chromecast or Roku stick and stream content like Netflix wirelessly to your TV. No hassle with cables and it a clean look. Follow the steps to ensure a successful installation of your wireless Chromecast or Roku device.
Download the Netflix app for your Android or iPhone. You can download the app for free from the Google Play Store or Android App Store.
Open the Google Play Store or App Store.
Tap the Search tab at the bottom (iPhone and iPad only).
Type Netflix in the search bar.
Tap Netflix in the search results.
Tap Install or Get next to the Netflix app.
Connect the Chromecast to an HDMI port on your TV.
Open the Netflix app on your smartphone or tablet.
Tap the cast button while playing any content. The button is located in the upper-right corner of the video. A list of devices will appear.
Tap your Chromecast device. This casts the video you are playing on your smartphone or tablet to your TV.
How to stream Netflix from Roku to a TV?
Roku is much like a cheaper Apple TV version because it also comes with a remote.
It's simple, user-friendly, and not hard to set up. With a Roku device, you can stream anything from Netflix, HBO, Amazon, and YouTube to regular tv channels.
Make a free Roku account on their website if you already don't have one.
Connect your Roku device to your TV with the HDMI slot.
Make sure you select the correct HDMI channel on your TV. I could be HDMI 1, 2, or 3 and also could take a moment before showing.
Then connect your Roku device via the tv with your Wifi so that it can stream Netflix.
Follow the other steps on your TV and enjoy your Netflix binge session.
Can you stream Netflix from laptop to TV in different ways?
Today we talked about all the different ways and all the things you can buy to make your Netflix-watching life a lot easier. If you don't enjoy wires, there are a lot of different wireless options like Apple TV, Chromecast, or Roku.
All different scenarios you can think of, we've made a step-by-step plan for in this article.
The Chromecast option is one of the cheaper options when compared to Apple's TV and Roku.
Apple TV is the best option for you if you already use other Apple products. The synchronization is just so smooth that you'll find it better for your preferences.
That way, you can also stream other content from your iPhone to the TV such as photos and videos.
Roku is a less-known option but still very interesting. With Roku, you can also buy other add-ons for a cheap combo deal. In this way, Roku offers more personalization options.
Upgrade to a smart TV
If you're going to buy a new TV anyway, it's likely to have an up-to-date smart TV system.
Plug In Your Available Laptop with an HDMI cable
If you have a personal pc or laptop lying around, you can also connect it to the TV for using it as a monitor for streaming your favorite movies and series on the TV provided you are ready to take that many steps to connect it.
Connect an HDMI cable from your laptop to your TV. If your laptop has an HDMI out port, connect one end of an HDMI cable to it, and the other to an available port on your TV. Make note of which HDMI port you connect to.
Turn on your TV and select the HDMI source. Press the Input or Source button on your TV remote to select a video source. Once you select the right port, you should see your laptop screen

HDMI input

mirroring your TV.
Go to https://www.netflix.com in a browser on your laptop.
Play the content you want to watch just like a regular website
Don't forget you can still use an HDMI cable to connect your laptop to the TV to stream Netflix. This approach is the most simple and requires little to no money.
Conclusion
Users can stream Netflix via smart TVs, smartphones, tablets, laptops, personal computers, game consoles, and streaming media players. Most people prefer watching Netflix stream movies to their TV; even if you don't have a smart TV, you can still stream Netflix with other internet-enabled devices.
There are many ways to do it. You can simply connect your laptop to the TV and stream Netflix via a web browser or hook up your phone to the TV. For a more complicated setup, you can stream Netflix on your TV if you have an internet-ready Blu-ray player or another video component, such as Roku.
Frequently Asked Questions
1. How do I know if I have a Smart TV?
Knowing whether your TV supports Netflix can broaden your entertainment horizons dramatically. But, what do you do if you aren't sure whether you actually have a Smart TV or not?
A Smart TV is typically defined as a TV with internet capabilities. A lot of the time, this simply means it has internet applications like Netflix. If you aren't sure whether your TV is a Smart TV, look at your remote first. Assuming you have the original remote, you should see an apps button (perhaps even a Netflix button). If you don't see the app button, head over to the TV's menu and search for apps here.
Of course, if you know the model number, Google it. Not only will you pull up information about your TV, but you'll likely get instructions on how to access the Netflix app if it does support it.
2. Can you stream Netflix directly to your TV?
The Netflix app is available on many smart TVs, game consoles, set-top boxes, and Blu-ray players. On Netflix-ready TVs, the Netflix app is on the main menu or home screen. If your TV has an app store where you can download new apps, search for Netflix to see if the app is available.
3. Does Netflix require an HDMI cable?
An HDMI cable is required (in addition to the TV, computer, a Netflix subscription, and broadband internet, of course). As long as both your computer or laptop and television have HDMI ports, this should be a simple process.
4. For Netflix, how can I connect my laptop to my TV?
Open the Chrome web browser on your PC (version 72 or higher).
Register on Netflix.com.
Choose the More button.
Choose the Cast.
To cast Netflix to your TV, pick your computer from the list of compatible devices.
Click Play after choosing a TV show or movie to watch.
5. How can I watch Netflix on my TV without a smart TV?
Easiest method: Add the Netflix app to a streaming device, such as Apple TV, Roku, Chromecast, or Amazon Fire TV Stick. Next easiest: Connect to your Netflix account using a gaming console, including PlayStation, Xbox, and Nintendo Wii U. Alternatively, you can connect a laptop to a non-smart TV to cast Netflix to it
The popularity of Netflix video streaming has skyrocketed. The Netflix app is used by millions of users of all ages in over 190 countries to access original content, movies, TV series, and much more.
If you're a new member of the family, you probably have questions about how straightforward it is to stream Netflix to your TV and how to connect Netflix to your TV as opposed to using a mobile device or gaming console. Netflix is a service supplied over the internet, unlike regular TV channels and pay TV, where you'll need a Netflix account to view Netflix; this is accessible through the Netflix app.
And last but not least, you can buy a smart TV. We didn't cover these steps in the article, but they're self-explanatory. Just turn your TV on, click on '' Netflix'' and start watching. Some new smart TVs even come with a remote that has a Netflix button.