The average laptop will usually last between three and five years, depending on how it is used.
To consider when is the best time to buy a laptop, it is important to take into account the state of your current laptop, along with what kind of laptop you are looking for.
Of course, when you actually need a new laptop is the perfect moment to purchase it. How you should shop for a laptop can be significantly influenced by the reason you're doing it. For instance, your shopping strategy can alter slightly depending on whether you need a laptop immediately or can wait for larger markdowns if your current computer breaks down.
In this article, I'll discuss how to shop for a new laptop at the best price at any time, when to look out for laptop offers, and how to decide when to make your buy.
In many cases, waiting until yearly sales can help you to save a great deal.
Let's take a look at why you may be looking for a new laptop, and when is the best time to shop.
When Is the Best Time to Buy a Laptop?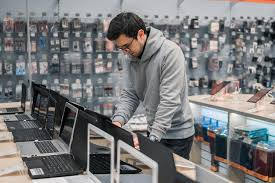 The right time to get a new laptop
How you go about buying a new laptop depends on your timeline. During the holiday seasons, such as Memorial Day and, of course, Black Friday, the majority of the best bargains of the year will be offered more deals. Additionally, it is usually beneficial to check prior to Amazon Prime Day and throughout the back-to-school period as new laptop models arrive.
Having said that, we also understand that life occurs and that not all purchases of new equipment can be made around the holidays. Here are the most crucial considerations to bear in mind when looking for the greatest deal, regardless of whether you've recently made the decision to start looking for a new laptop or were forced into it by circumstance:
Buying a laptop can be a big decision and a big expense. With that in mind, doing research into different units and waiting for sale opportunities might be the better option. If your laptop is still functional and you can wait, delaying your purchase could potentially save you hundreds of dollars.
Once you know what specifications and model of laptop you would like (ie, Apple vs Windows) you can further look into sales, most deals, and yearly reports to find the best-priced options.
Many companies will hold annual launch events at which they announce new and exciting products. By keeping an eye on when these events take place, you can potentially time your purchase as the price is reduced.
For example, Apple products hold its annual Key Note event in the Fall. It is not uncommon to see older models discounted with the introduction of a new line.
Though it may not be immediate, the vast majority of companies will reduce the price of certain older models around the time of the newer releases.
Black Friday & Cyber Monday Deals
In recent years, Black Friday deals have been available online and have included many electronics, including laptops. Both Black Friday and Cyber Monday are excellent opportunities to save on a new laptop. In recent years, Cyber Monday has even surpassed Black Friday in terms of its scale and popularity.
Many deals are released in advance, giving you the chance to research options and stores to find the best deal. Traditionally, Apple does not offer many discounts. But for Windows machines, there are a number of heavily discounted options.
Toward the end of Summer, there are several back-to-school sales, including clothing, shoes, and electronics. These sales include both Apple and Windows products. Both will often include offers, such as free headphones or discounted printers.
These deals are usually available toward the end of July and the first few weeks of August and require proof that you are a student.
It's time to look for laptop deals when the weather starts to warm up, usually from late February through April. For companies releasing new laptops, this is a well-liked release timetable. This frequently entails offering a fresh discount to spur interest in a new laptop line or discounting the now-older laptop generations. Make careful to search well-known e-commerce sites as well as the manufacturers' own websites, since they can have unique bargains of their own (Dell, apple laptop and Lenovo, for example, have done this).
Consider Certified Refurbished Products
Many companies will offer refurbished products. These have been checked over and tested by professionals and should have some kind of certificate to prove it is in working order.
Such deals are available year-round. If you feel your laptop could be needing to be replaced in the near future, it is worth keeping an eye on refurbished products, as they can change weekly.
Signs That You Need a New Laptop
As your laptop ages, certain things will inevitably stop working or become out of date. Whether you are experiencing a slower start-up or the charge isn't holding, there are a few things to look for that will help to decide if it is time for a new unit.
Compatibility Issues
For some laptops, after years of use, they will no longer be eligible for upgrades. Although they will likely still receive security fixes, you may find that older computers can no longer upgrade their internal systems.
For a time, this won't be an issue. But if left too long, you will probably see the effects of the older system, such as slower response times.
Similarly, if you choose to upgrade internal parts, like the RAM (random access memory), it is possible that the newer parts will not be compatible with the older parts. In this case, it is often cheaper to buy a new laptop than replace all the necessary parts and also look for battery life.
Noisy Fan
One of the first signs that your computer is aging is the sound of the fan, even when nothing is running. Simply by using the latest applications and operating systems, your computer hardware will need to work harder and therefore the unit will run hotter.
There are a few things you can do to help reduce the fan noise, such as closing down background applications. However, these are quick fixes that won't last forever.
Poor Power
For an older computer running newer applications, you will likely see some lagging as the program startup, and in some cases, when in use. Also, working on multiple tabs at once will probably greatly reduce productivity.
If you notice that your laptop is taking a long time to boot up and is not holding its charge, there is the possibility of replacing the charger. First, check it out thoroughly and inspect for any damage, along with testing the battery before opting to replace it.
Expensive Repairs
Changing out buttons on your keypad, or replacing the touchpad with an external mouse are easy and inexpensive fixes to small problems. However, in some cases, the repairs will out-cost that of a new laptop's specs.
For example, a cracked screen may be workable for a time, but you run the risk of the whole thing shattering. However, finding someone to replace that screen can be difficult, especially with older models. All of the components of the computer work together to determine the laptop's battery life.
For internal issues, as mentioned before, finding compatible parts is not always easy and could lead you to purchase more parts than you really need. In addition, paying a repairman to take your laptop apart and change out the internal working could potentially be more costly than a new unit.
Conclusion
When looking for new laptop deals and laptops, there are many factors to take into account, but timing your purchase can be important.
Generally speaking, a laptop should last between three and five years, depending on how you use it and the quality of the item. Many laptops come with a one-year guarantee, but other manufacturers also offer premium plans that include additional years of protection. Of course, if these computers are properly cared for and maintained after the warranties have expired, they should continue to function.
With years of expertise reviewing and studying new laptop models, our crew knows when to find the greatest prices. In the section below, we outline the ideal times to shop for a laptop and what to consider while making a decision.
Knowing when is the best time to buy a particular laptop can help you to save money. Prolonging the life of your current laptop by just a few months may give you the opportunity to find a great deal.
Consider what your needs are and what you will need out of your new laptop in order to find the right one for you among the best deals.
If you think it is time for a new laptop, check out our Buyer's Guide for information on the best laptops and new models for your individual needs.
Frequently Asked Questions
1. Which month is ideal for laptop purchases?
It's hardly surprising that around Black Friday in November, the most offers appeared. The rest of the year, businesses like Best Buy, Dell, Lenovo, and Apple laptops also run promotions. It's rather typical to come across a few laptop promotions or deals at random throughout each month, especially in February and August.
2. When is the most affordable time of year to purchase a laptop?
The greatest times of year to purchase a computer, with few exceptions, are Black Friday, Cyber Monday, three-day weekends like Presidents Day weekend, Amazon Prime Day, the company's massive October event, and back-to-school time. In particular, Black Friday is a good day to save money and buy the cheapest laptop.
3. Is now the ideal moment to get a laptop?
late spring. There are often fewer deals available and no immediate customer demand in May and June, which are off months for laptop reductions. The holiday shopping season is a great time to get deals on lots of different tech products, and laptops are no exception. If at all possible, postpone Amazon Prime Day and the beginning of the back-to-school season until July and compare prices.