Complete Guide: How to make a stolen laptop untraceable?
How can a stolen laptop be rendered untraceable? Keeping your laptop in a data-locked location is the simplest approach to prevent it from being used without authorization. Data locks are a very helpful tool for preventing unwanted persons from accessing your laptop.
Your life will be a lot simpler if you know how to data-lock a laptop. Every laptop owner should keep their data locked since doing otherwise poses a serious security risk that may allow anyone to break into their home and steal their laptop.
It's preferable to merely keep a laptop without a data lock when it comes to laptops. This is more secure than keeping your laptop in a location that locks the data.
Today we will figure out how to make a stolen laptop untraceable practically, with the goal that you can't be followed or observed by anybody fundamentally figure out how programmers expel followers from their laptops. How to make a stolen laptop untraceable?
Today we will figure out how to make a stolen laptop untraceable practically, with the goal that you can't be followed or observed by anybody fundamentally figure out how programmers expel followers from their laptops. This won't just help you sequestered from everything your personality amid hacking endeavors yet, also, make you unknown over the system.
This article may include references and links to products and services from one or more of our advertisers.  We may be paid compensation when you click on links to those products and/or services. As an Amazon Associate, we earn from qualifying purchases.
This article contains affiliate links, which means that if you click on one of the product links and make a purchase, we may receive a commission. Please note that this article is for informational purposes only and should not be construed as financial or investment advice. We do not endorse any specific product or service mentioned in this article.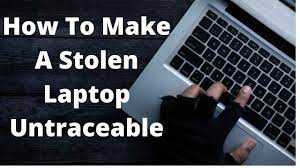 How to make your LAPTOP untraceable for example Abandoning no follows any hack endeavor. Step-by-step instructions to expel follows:
Encrypting Your Keystrokes First:
You have to shield yourself from key lumberjacks/Rats. As odd as it might sound even the administration/security offices/Windows/Hackers all have key lumberjacks, which record the client's IP address, operating system, Mac address, open ports, working framework, introduced applications, default internet browser, visited URLs, signed in the client, and so on.
To shield yourself from key lumberjacks, you ought to scramble your keystrokes. You can do this by utilizing a product called 'Key Scrambler.'
By Making Your Encryption More Secure:
Encryption is trivial on the off chance that it tends to circumvent or survived effectively. You have to ensure that the encryption is secure as well.
Always build a strong password:
Indeed, even with your LAPTOP scrambled, it is as yet helpless. Ensure your secret word is great (for ideal security, your secret key ought to be at least twenty characters, with images, numbers, and arbitrary capitals, and an exceptional image (like ALT+1456) truly increment security). Norton's secret phrase generator is extraordinary for this.
Always make a screen saver password protected:
Encryption is silly if the Forensic Team gets to your LAPTOP while it's running. They can utilize live legal instruments that don't require the development or shutdown of a LAPTOP.
A basic system to defeat this is to make a bolted screen saver. To make a secured screen saver Windows Vista or Windows 7; Right snap your work area and snap on 'Customize.'
In the base left or right-hand corner, you should see 'Screen Saver,' click that. Now, check 'On Resume, Display Logon Screen,' and set 'Pause' to 5. Presently, underneath that, you may set what you need your screen saver to be.
Presently you should go to your Control Panel. Snap-on System and Security presently click on 'Power Options' locate your chosen arrangement and snap 'Change plan settings.'
Now, set 'Turn Off Display' to 5 minutes. That is, it! You have now made a bolted screen saver.
Always set up a strong antivirus:
This may appear glaringly evident, yet this is inconsequential on the off chance that you get tainted with a keylogger that takes screenshots.
Having a decent enemy of infection is a standout amongst the most imperative things you can do.
Presently, tune in. AVG, Avast, Mc-Cafe, Norton? They will answer how to make a stolen laptop untreatable. The main Anti-Virus you ought to significantly consider are Norton Security, Bit-Defender, ESET Nod32, and Webroot Antivirus is likewise truly great.
Advance System Care Ultimate regards it utilizes a Bit-Defender Antivirus motor but at the same time is a utility instrument for example Vault fix/defrag plate defrag protection clear security fix and so forth.
You once in a while even need against infection programming when utilizing Linux, as most infections are worked to taint Windows frameworks, surrendered these make most of the LAPTOPs, however, it's best to be protected.
Use A Robust Antivirus
You can get into trouble even with the slightest carelessness like if you hand over your device to any outsider so it can be dangerous. For this reason, you must install any robust antivirus software like Avast, AVG, Norton, etc. 
This antivirus software can save your laptop from any viruses that can harm your data or if your device faces any error while executing. Also, this anti-virus software is a solution to make your stolen laptop untraceable by preventing keyloggers to take screenshots.
Which Antivirus Is Best For a Laptop?
Sometimes you feel that your laptop is going slow and it has some problems like freezing the apps, data corruption issues and auto restart, etc. It means your laptop has some harmful viruses that can make your data damage and also your hard drive can be damaged.
In this situation, you must have powerful antivirus installed on your laptop to protect your data. There are different types and versions of Antiviruses available on the market, some are paid and some are freely available. The question will be raised in the mind; if there are a lot of antiviruses available then which antivirus is best for a laptop? Well, this is an important question before using a paid version of an Antivirus.
Before moving forward I want to tell you that free versions of antiviruses have limited features and paid versions give you full access and features of the software. So it is better to use a paid version of Antivirus if your laptop is affected by dangerous viruses like Trojan and Win 32.
LaptopsChamp experts have researched the best antivirus for laptops currently available on the market. After their research they have compiled a list of some best antivirus that we are included in this article, so you can choose anyone version for your laptop.
1. Norton Security Deluxe
Norton Security Deluxe antivirus is a powerful software that can protect your data from harmful viruses. This Antivirus comes with a 100% money-back guarantee and you can use this on PC, Mac, and Mobile devices. Security Deluxe will automatically renew after 1 year for uninterrupted protection.
You will receive an email before renewal and you can also cancel a subscription at any time. Check the current price on Amazon
2. Webroot Antivirus
Webroots give you complete protection from Trojan, Win32, and other harmful viruses. It provides you with total internet security so you can browse without any risk. This powerful antivirus scans your laptop in seconds to block ransomware, phishing, and all other malicious attempts to steal your personal data.
The full version of Webroot Antivirus has the auto-update feature to the latest software version. You don't need to install manual updates. Check the current price on Amazon
By Disabling the Windows Hibernation:
You should hand your LAPTOP over to the feds if they attack your home and your LAPTOP is in hibernation.
Likewise, putting your LAPTOP into hibernation is basically simply taking a screenshot of your RAM that gets spared to your hard drive. So how to make a stolen laptop untreatable by just disabling hibernation?
To disable hibernation from your laptop's Windows Vista/7/10.

First of all, open the Control Panel of your laptop's window.

Then just click on system and security, and at that point click 'Power Options.'

Next just click 'change plan settings for your present power plan.

Presently click 'Change propelled power settings. Extend 'Rest,' at that point grow 'Rest After.' Enter "0″ for 'Setting:' to set sleep to 'Never.' Hibernation is currently crippled.
Keep Disabled and Remove USB Logs:
Following up on Anti-Forensics in to cripple logs of USB action, streak drives, and so forth. This can be profitable on the off chance that you have a glimmer drive with delicate information, and you don't need any logs of it consistently being stopped on your LAPTOP. How to make a stolen laptop untreatable by removing USB logs.
Always remove the USBSTOR Registry Setting:
The USBSTOR setting contains a history of connected USB gadgets. To erase it, hit the WINDOWS Home Button + R in the meantime. This will open up 'Run'; type: "Regedit" (without statements). Peruse to THE_KEY_LOCAL_MACHINE_SYSTEM_Current_Control_SET_ENUM_USB_STOR Presently, right-snap 'USBSTOR' and hit 'Erase,' at that point affirm that you need to erase the key. Presently, the key has been erased
Delete your laptop's Setupapi.log File:
The Setuppapi.log is a plain-content document that stores the rundown of introduced USB gadgets and their drivers. We will erase it with a program called C-Cleaner. C-Cleaner is really a standout amongst the best enemy of scientific devices out there, and it's free.
Stay anonymous while online:
Covering up your online personality and secrecy is fundamental since it keeps you from getting followed or found. Make sure to install anti-theft settings and anti-theft features for an untraceable stolen laptop.
Usually, proxies are used to bypass the sites through screen-saver settings. Proxies mainly hide the IP address of the user.
Web proxies enable you to use any websites indirectly. You can use a proxy server to gain access or tracking software without showing your identity.
It can also have the power to hide your identity by giving you a different IP address by installing a new operating system.
Spoofs and mimics make you enable to hide while searching online content.
It will allow you to use multiple IP addresses at the same time.
Anonymity Tips
Don't post private data on the web, including your location, birth date, and contact information, including on your enrollment subtleties, if the specialists discovered one, they would utilize it to follow you.
Do not connect with private exercises while on open spots, other individuals may see you.

Do not gloat or discussion about hacking, clearly, on the off chance that you boast/talk about it with your companions, they may report you to the police.

Hide your records in an encoded holder, scrambling information on the USB is better.

Always use SSL when it's available; it encrypts your details so that it would be safe.

Use SSH (Secure Shell) when connecting to a remote system, one good example is Putty.

Never trust anyone and rely on your instincts.
Conclusion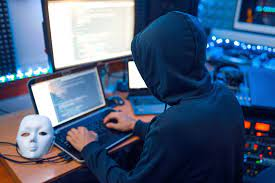 A stolen laptop is extremely difficult to buy. The problem is that you can't find the thief to demand a refund or other compensation. Take it or leave it is all that is required.
Like the vast majority of customers, you will probably use it. Though there is always the chance that the owner would come after you.
Make the laptop entirely undetectable as a result. You should find this guide, "How to Make a Stolen Laptop Untraceable," helpful.
That's all guys. Hope you have found the detailed answer to How to make a stolen laptop untraceable? This is a must for all of you who are worried about traceability so, keep learning about stolen laptops and laptops working.
If you have any queries about the question of how to make a stolen laptop untraceable or something else related to laptops then feel free to post your questions here. Our editors will research your question and will assist you after finding the solution.
Frequently Asked Questions (FAQs)
Q: Can I make my stolen laptop untraceable even if it is not encrypted?
A: While encryption is the most effective way to make a stolen laptop untraceable, there are other measures you can take. For example, you can disable the tracking software, remove personal information, and use a VPN to mask your online activities and location.
Q: Is it legal to physically alter a laptop?
A: It is legal to physically alter a laptop as long as you do not damage it or violate any laws. However, if the laptop belongs to your organization or employer, you may need to obtain permission before altering it.
Q: What should I do if my laptop is stolen?
A: If your laptop is stolen, the first thing you should do is report it to the police. You should also notify your organization or employer if the laptop belongs to them. Finally, you should take measures to prevent the thief from accessing the data on the laptop and make it untraceable.