Auto Clicker is a kind of macro or software that automates the mouse clicks on a computer screen. 
The gaming community uses auto clickers the most. Well, the majority of users are in Clicker and Incremental games. People also use auto clickers in popular games like Minecraft and Roblox. A mouse button needs repetitive mouse clicks but a free auto clicker is used to automate mouse clicks and provides a dynamic cursor location. A full-fledged auto clicker enables automatic clicking.
Using an auto clicker can be fun if you find the right tool for your games. If you do find one, you must know how to use it. Keyboard keys are used for using a keyboard shortcut for an auto click. To perform repetitive tasks, the best auto clickers are used to reduce click intervals.
This post brought a list of auto clickers for Windows, Mac, Android, and iOS users. We will also explain how to use it.
Let's get started!
How to use Auto Clickers like a PRO?
We will show you every possible way to use an auto clicker on any platform. This is how you're going to be a Pro.
For Windows and Mac UserS
Auto clicker works precisely the same for Windows and Mac. You can follow these steps to make it work on both devices.
Step 1. Download the auto clicker from the official website Open any clicker game in your browser and start the gameplay.
Step 2. Now open the respected Auto Clicker and customize your settings such as intervals, number of clicks, and click type. You select Repeat until stopped for unlimited mouse clicks.
Step 3. Put the cursor on the destination point on your computer, then press Hotkey to START. 
Step 4. Press Hotkey again to STOP the automated clicks.
You can record the automated actions from the Record and Playback settings.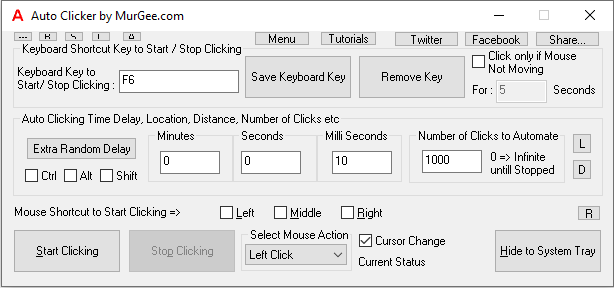 For Android Users
Using an auto clicker on an Android device is very easy. Most of the apps offer a floating panel that helps you set the location on your mobile screen. See for yourself.
Step 1. After installing this application, you have been granted access to the app from Settings.
Step 2. Now go to the auto clicker app again and select Single or Multiple target mode as per your need. Once you select a mode, a control panel will appear on your mobile screen.
Step 3. Now go to the clicker game and put the pointed dot to the target from the panel. (set multiple targets if you've chosen Multiple Target Mode)
Step 4. Now set the time interval and click numbers from the Panel.
Step 5. At last, click on the Play button, and it'll start clicking automatically on your screen.
You can click on the Stop button from the panel whenever you want.
For iOS and iPad
If you're not using Jailbreaking on your iPhone or iPad, only the Clicker+ Counter app is available as an auto clicker. Let's see how it works.
Step 1. Open the app and record a script by setting up intervals and XY coordinates.
Step 2. Set the number of clicks. (maximum 99,999) and save the script.
Step 3. Go to the Clicker game and start playing. 
Step 4. Go back to the auto-clicker app again and click on start. When you start the game from the background, It will start auto-clicking as you set the coordinates. 
If you haven't set XY coordinates, just click on the destination point after clicking start from the auto-clicker app. It'll start clicking auto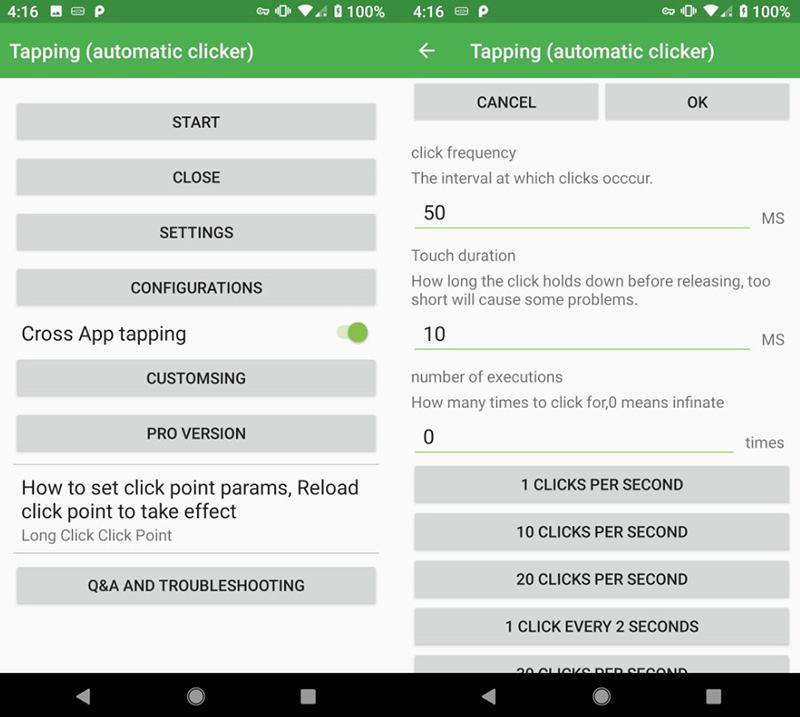 matically when you point to the target on your screen.
Categorized List of Auto Clickers 
For Windows Users
If you're a Windows user, there are plenty of auto clickers available to choose from. Since we are looking for the best, here's the list.
1. OP Auto Clicker
OP Auto Clicker is considered the best auto clicker for Windows. It is one of the most reliable and powerful auto clickers you can find. It is free to download and operate. 
You can find an easy UI with multiple clicking options. You can also customize Hotkey to start and stop automation. It offers a Record and Playback option to record your mouse-clicking activity.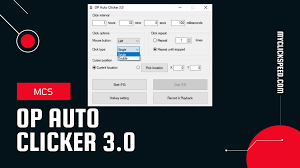 2. GS Auto Clicker
Like OP, GS Auto Clicker also has the same features. It repeatedly clicks on the screen automatically while you're working on other projects.
It is free and 100% safe to use. It doesn't crash or lag while operating. Hotkeys made it simple for quick functioning. For Incremental games, GS Auto Clicker is preferred the most.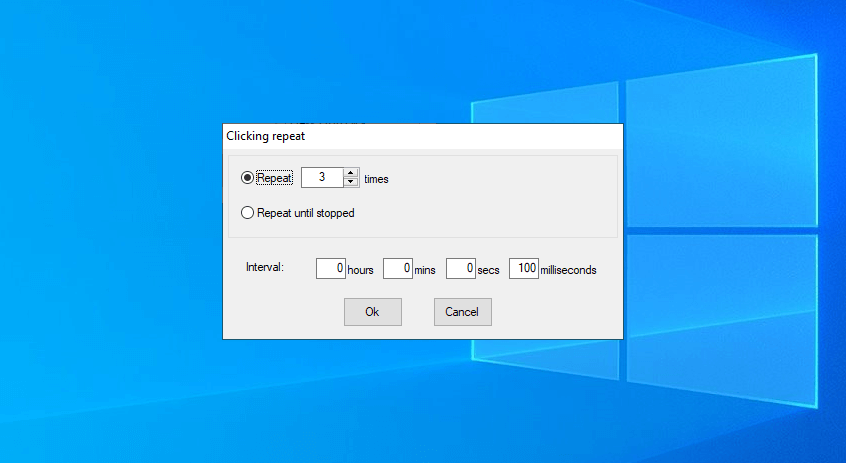 3. MurGee Auto Clicker
MurGee is the most trusted website that offers various automation tools for Windows, and Auto Clicker is one of them. It is an advanced auto clicker with advanced clicking options.
The basic features of MurGee Auto Clicker work the same as other auto clickers. The professional uses the advanced features because it needs some coding knowledge to adapt. MurGee offers all of its automation services only for $8. It also offers a free trial to its users.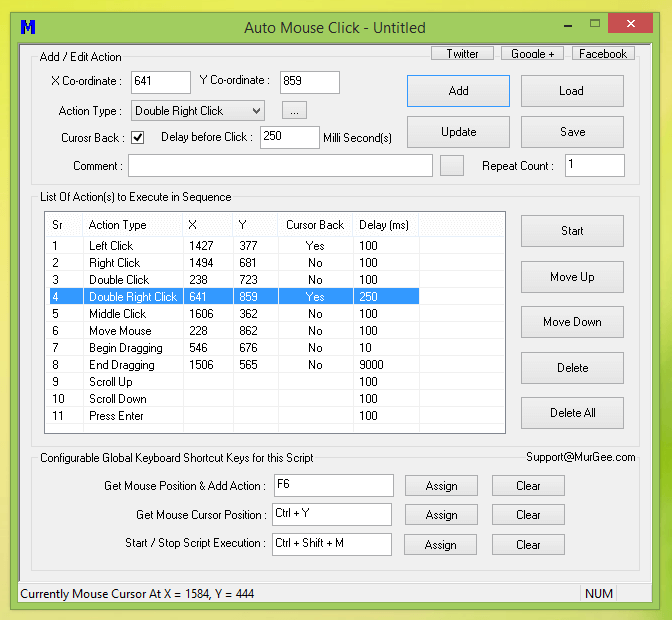 For Mac Users
Mac Users won't find as many options as Windows, but there are some good ones. Have a look at it.
1. MurGaa Auto Clicker
Like MurGee, MurGaa also offers all-in-one automation tools but only for Mac. The auto clicker feature of MurGaa is pretty DOPE. 
It is an advanced tool with multiple clicking options. You can set intervals between clicks, the number of clicks, clicking options, and even Hotkeys. It is a paid tool, but there's a free trial available. After the free trial, it costs $5.67 for 1 Mac screen. 
2. iClickMac
Glickman is another dedicated software for auto-clicking. It is available on Mac App Store. You can download it for free.
They offer a floating panel to your Mac screen. With this, you can customize your settings right on the working page. This software is not suitable for gaming as it allows only 20 automatic clicks at a time. But it works perfectly with any website that doesn't need too much mouse clicking.
3. DwellClick
DwellClick is a fantastic software for automated mouse clicking. It is too advanced for an auto clicker. Every beginner can't use its full features unless they have some coding knowledge. Still, everyone can use its basic features as other auto clickers.
It offers a floating panel that helps you customize your automation setting on the destination page. DwellClick is a paid tool with multiple auto-clicking features. It is available on the Mac App Store for $9.99.
For Android Users
Android users can find thousands of auto clickers on the Play Store. Some apps demand root access, and some work perfectly without a root. Let's see both of them.
1. Auto Clicker – Automatic Tap (Without root)
This app is available on the Play Store for Free. It works best with any mobile clicker game. You can set multiple targets at a time on your mobile screen.
It offers a floating panel that helps you ease the automation. It is ad-supported, but you can upgrade to VIP to avoid advertisement. This one doesn't require root access to operate. 
2. HiroMacro Auto-touch (With root)
HiroMacro is one of the reliable auto clickers for Android. It offers an auto-touch macro feature that automatically clicks on your mobile screen.
You can record a script using gestures and screen taps. After saving a script, you can apply it to any game that does the same as you recorded on the app. It needs root access to operate. 
For iOS and iPad Users
iOS smartphones are the most secure devices in the world. That's why it doesn't allow auto clickers to be used. But here's the only app available on the App Store, Clicker+ Counter.
Clicker+ Counter
This is a simple auto clicker with basic features. It allows you to record a script that can be used in Clicker games.
It offers you only limited auto clicks with a maximum value of 99,999. The app is compatible with the OS 11.1 version or later. Both iPad and iOS users can download it from the App Store for Free.
Various games can be easily played by enabling right-click and left-click (two clicks) in two modes opening many features.
Conclusion
This is our every possible method to use an auto clicker on any device. We explained every step for every device, so you don't need to worry if you have multiple devices. That's how you can make yourself a Pro.
We practically used it before, as we've mentioned in the article. All of them are 100% safe to use in clicker games.